US March employment (non-farm) figures registered 192,000 new jobs, slightly less than February's revised 197,000. The US unemployment rate remained unchanged at 6.7% in March.
Abnormally harsh winter weather conditions did not inhibit the increase in the monthly average of new jobs, which is close to pre-crisis levels.
The new jobs total was mainly driven by a large increase in mining, logging, health care and professional and business services, according to the Bureau of Labor Statistics, part of the US Department of Labor.
US March unemployment virtually unchanged
The number of unemployed American adults in March remained virtually unchanged at 10.5 million. There has been little movement in unemployment numbers since December 2013.
Year-on-year, the number of unemployed people in the US dropped by 1.2 million, or 0.8 percentage point.
Below is a breakdown of unemployment rate in March for different worker groups
Adult females – 6.2%
Adult males – 6.2%.
Teenagers – 20.9%.
Whites – 5.8%.
Blacks – 12.4%.
Hispanics – 7.9%.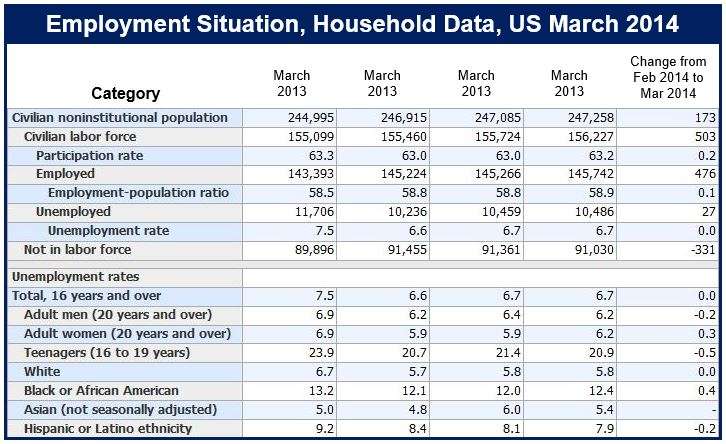 (Source: Bureau of Labor Statistics)
Long-term unemployment persistently high
The number of people without work for at least 27 weeks – the long-term unemployed – was 3.7 million in March, virtually unchanged compared to February. Long-term unemployed individuals account for 35.8% of the unemployed in the US.
There were 837,000 fewer long-term unemployed workers in March 2014 compared to the same month in 2013.
The number of US civilian employees in work and total employment rose in March. The labor force participation rate was 63.2%, and the employment-population ratio 58.9%.
The number of Americans in part-time work for economic reasons, often referred to as "involuntary part-time workers", stood at 7.4 million in March. They work part-time either because their hours have been reduced or they have not been able to find full-time employment.
US March employment and the US Federal Reserve
The US Federal Reserve observes several economic indicators when deciding on whether to change interest rates or alter the pace of its stimulus program tapering. The unemployment rate is one of these indicators.
In 2013, the Fed had said it would start increasing interest rates as soon as unemployment dipped below 6.5%. However, in 2014 Fed Chairman Janet Yellen said the 2013 guidelines have become more flexible regarding the 6.5% unemployment floor, i.e. interest rates will stay low for a long time, even if unemployment falls further.
Most US economists were encouraged with the US March employment figures. In an interview with the BBC, Justin Wolfers, an economics professor at the University of Michigan, said "This employment report should help put to rest fears that the economy was stalling as we entered the new year."
Business services created 57,000 new jobs in March, 29,000 of them being in the temporary help industry, and 6,000 in computer system design and related jobs. Healthcare and ambulatory healthcare saw 39,000 new jobs created, while nursing care jobs declined by 5,000.
Mining and logging jobs have increased by an average of 3,000 per month over the last 12 months, and rose by 7,000 jobs in March.