US travel visas are bad for the country's tourist industry, says the CATO Institute.
If the travel visa requirements were lifted the United States would have an estimated 45 to 67 million extra tourists each year, which would translate into between $90 billion and $123 billion in additional spending by overseas visitors.
Citizens of many countries around the world need US travel visas if they wish to visit the country.
The US government says it helps keep down illegal immigration, terrorism, and other security-related threats.
However, this security measure comes at great cost to American jobs and the economy, because it severely inhibits tourism into the country.
Lifting US travel visa requirement would boost tourist spending
If the US had a more sensible visa policy, many sectors of the country's economy that are heavily dependent on tourist spending would thrive.
If well-to-do foreigners did not need US travel visas, the number of annual visitors to the country would increase from just over 42 million in 2012 to 87 or more than 100 million.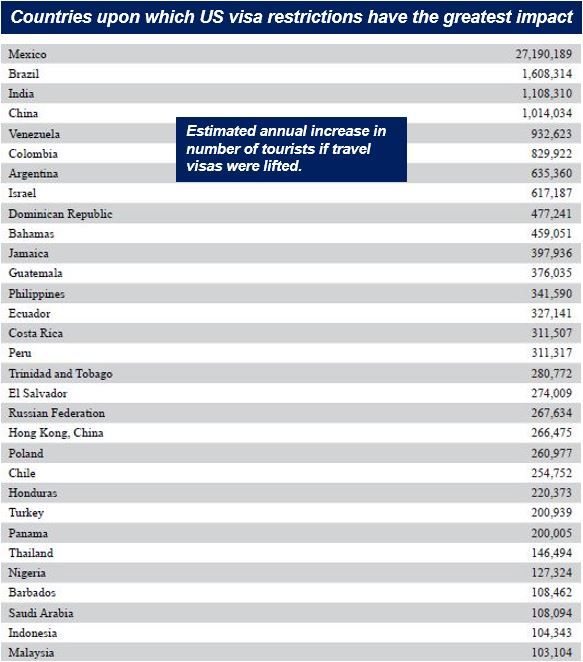 US travel visas send tens of millions of potential tourists to other countries.
US tourist visas are bureaucratic, arduous and costly
Would-be-tourists have to go through an arduous and costly process to be able spend a vacation in the US.
A high-income household in Brazil, for example, who wishes to visit Disney World in Orlando, Florida, has to complete a DS-160 online application form, pay $160 for each family member, and must undergo two separate interviews. In one of the interviews invasive questions are asked and fingerprints are taken.
The interviews are done at an American embassy or consulate, and in Brazil, a country the size of the continental United States, there are only four locations. Some Brazilians have to travel a long way for the interviews.
US travel visas are said to take 10 days to process, but in many cases they can take much longer. The US government advises visa applicants to make no travel plans until the document comes through.
To many Brazilians' surprise and irritation, consular staff can halt the process whenever they like and deny the individual or family a visa without having to give a reason.
Go to Disneyland Paris or Disney World Florida?
The Brazilian family has the choice of either going through this lengthy, time-consuming and costly process, or forget the whole thing and visit Disneyland Paris in France, where no travel visas are needed. Paris is a beautiful place; the US tourist industry competes with many spectacular places around the world.
It is not surprising, therefore, that a great many Brazilian families, and others around the globe, opt for Paris over Florida.
A study of travel visa requirements across 188 nations has shown that the imposition of tourist visas reduces the number of tourists coming from a country by approximately 70%.
France, a country which is one-fortieth of the geographical size of the US, receives 87 million tourists each year, more than any other nation in the world. How many of them go to France because of US travel visa requirements?