The unemployment rate in the US dropped to 4.6 percent in November – a total of 178,000 jobs were added to the economy.
With unemployment at the lowest rate since August 2007 – albeit partly due to lower labor force participation – the US economy is performing relatively well.
Employment in professional and business services increased by 63,000 in November – up 571,000 over the year. Accounting and bookkeeping services added 18,000 jobs, while health care employment rose by 28,000 and employment in construction increased by 19,000.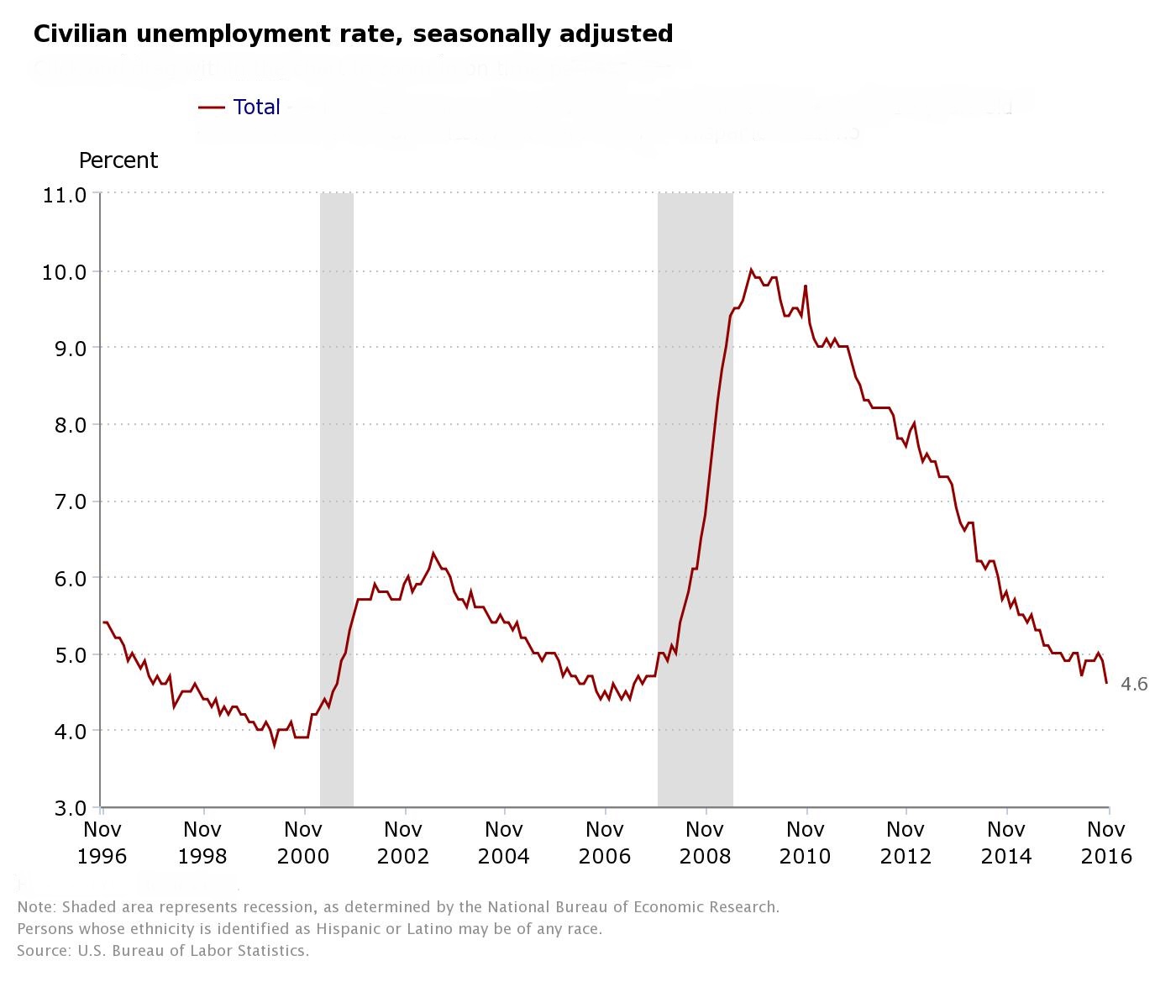 Average hourly earnings declined by 3 cents to $25.89, after an 11-cent increase in October. Over the year, average hourly earnings have risen by 2.5 percent.
The economic report indicates that President-elect Trump will inherit a solid economy on January 20, 2017 – the date of his inauguration.
In contrast, the first year President Barack Obama took office in 2009 the US unemployment rate almost reached a 10 percent peak. Since then, the economy has gained 14.8 million jobs and experienced its fourth-longest expansion in history.
Christopher Lu, the deputy secretary of the Labor Department, was quoted by The Washington Post as saying that "it is hard to imagine a more stark contrast between the economy that we are passing off to our successor and the economy we inherited."
Challenges in the economy remain.
However, not all the 14.8 million new positions during the recovery under Obama were direct replacements for the positions that were lost.
Approximately 1.8 million fewer Americans worked manufacturing jobs in November compared to ten years ago (before the crisis), while construction employment has fallen by nearly 1 million jobs.
There are also other challenges that the US economy faces, namely:
• Less than 60 percent of adults have jobs
• Relatively weak increase in pay gains
• A high number of part-time workers who would like full-time jobs – 5.7 million in November.
It should be noted that many of these factors were present before Obama took office and they will soon become challenges for the Trump administration to address.
The Federal Reserve's December 13-14 meeting
The drop in the unemployment rate has increased speculation that the Fed will indeed hike rates later this month, given the central bank's stance on making changes to rates based on inflation expectations.
Lower unemployment suggests workers will be empowered to push for higher wages and these higher wage costs will eventually have to pass onto consumers – increasing the cost of goods and services.
The hawks on the Federal Open Market Committee (FOMC) may see elevated inflation risks associated with such a low unemployment rate and push for rates to be increased higher and sooner.