Canadian firm Valeant Pharmaceuticals International Inc. with activist investor William Ackman plan to raise their hostile offer for Allergan Inc. by $4.5 billion, which would value the Botox maker at more than $56 billion, according to several newspapers which quoted unnamed people familiar with the matter.
If the deal goes through, something the Allergan board is trying to prevent with all its might, it would be the biggest pharmaceutical industry deal in 2014, exceeding AbbVie's takeover of Shire for $54 billion.
Valeant and Mr. Ackman's Pershing Square Capital Management LP are said to be considering a higher offer if a rival bidder emerges before December's shareholder meeting. A prospect that is becoming more likely.
Allergan has rejected all Valeant's offers as "grossly inadequate" and has refused to meet with the Canadian company. The Botox maker has been trying to prevent the takeover by striking a deal of its own.
---
---
On September 29, Allergan's board of directors said in a statement:
"Our conclusion that Valeant's offer is grossly inadequate and substantially undervalues Allergan remains unchanged. We continue to believe strongly that Valeant's offer does not appropriately reflect the underlying value of Allergan's assets, operations and prospects, including Allergan's industry-leading franchises of global scale and its projected growth opportunities."
Allergan announced in September that it was in talks to acquire Salix Pharmaceuticals. Mr. Ackman, whose company Pershing owns 9.72% of Allergan, said he would sue if an acquisition was agreed without shareholders' approval.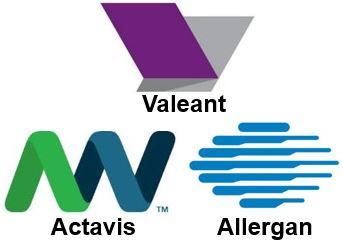 Valeant and Actavis want to buy Allergan. Allergan likes Actavis but does not like Valeant.
To Valeant's horror, Actavis plc appears on the scene
Dublin-based Actavis plc is interested in acquiring Allergan and has been in talks with the company. Several key Allergan shareholders, however, have criticized its strategy, saying it is wrong to proceed if the only reason is to prevent a hostile takeover. When the board of directors of the target company is not happy with the acquisition, it is called a hostile takeover attempt.
Actavis has held informal talks with Allergan in recent months about a possible merger. It is now seriously considering acquiring the Irvine-based company.
People familiar with the matter say a formal approach may occur some time this week. Actavis is the third largest generics prescription drug manufacturer in the world.
Valeant and Mr. Ackman aim to replace several Allergan board members during the December 18 shareholder meeting with Valeant-friendly people.
Share prices favoring Allergan
As far as share prices are concerned, Allergan seems to be coming out better than Valeant during the prolonged takeover battle. On Monday, Allergan shares were 1.7% up at $186.20 on the NY Stock Exchange.
Valeant shares were 2.5% down on Monday, closing at $175.94 per share.
According to Valeant, its shares should rise considerably after its earnings are announced next week.
Valeant's growth and survival are entirely dependent on acquisitions, given that the company lacks an effective research and development unit. Allergan, on the other hand, has a large R&D division and lots of cash, and could easily survive and thrive on its own.
Valeant is known as a corporate raider – a company that buys other firms and then asset strips them.
---
Video – What is takeover?
---