Once again, Verizon ranked top in the US national network performance league, according to a report published today by RootMetrics. AT&T came a close second, followed by T-Mobile and then Sprint.
Verizon swept the board in network speed, network reliability and overall performance. RootMetrics wrote "Verizon was the top carrier in the categories that point toward the entirety of your mobile experience."
The company also came top in call and data categories. Out of 50 US states surveyed, Verizon was first in 44 of them. The only category it did not manage to win was text, where it came a close second to AT&T.
Verizon's lead widened
In a considerable reversal from the previous study, Verizon's lead over AT&T widened in the Network Speed Index. The author believes this was partly due to the company's rollout of AWS spectrum as part of its XLTE offering.
Researchers collected 5.6 million samples from sites across the US to test network performance.
There was a big difference between the top two and third/fourth place. However, the report author added that T-Mobile and Sprint recently appeared to be closing the gap.
T-Mobile, which has recently upgraded urban networks, scored well at city level, but not in rural areas.
Sprint disappointed across all categories, adding to CEO Marcelo Claure's gigantic task of turning round the struggling company.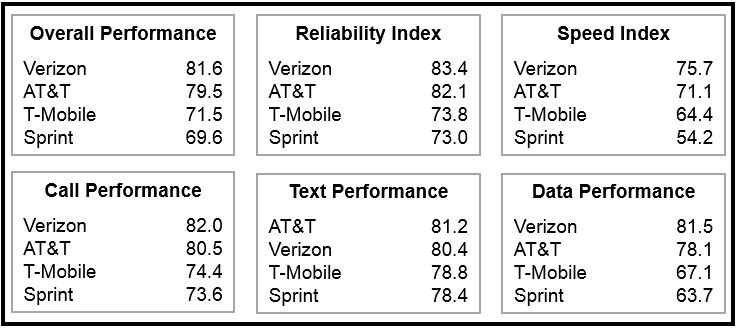 (Data source: RootMetrics)
Report author, Patrick Linder wrote:
"Verizon proved to be the dominant award-winner in nearly all aspects of our testing across the U.S., states, and metros, but AT&T was not far behind. Meanwhile, T-Mobile has emerged as a contender at the metro level with its focus on urban centers."
"While Sprint and T-Mobile generally remain a step below the other two networks overall, they have each made improvements and could be poised for a stronger second half of 2014."
T-Mobile and Sprint had been in talks about merging earlier this year. Had the deal gone through, the new entity would have been a serious rival to the mega-giants Verizon and AT&T.
Apparently, Sprint walked away from the deal, fearing that antitrust regulators would have blocked it.