The Volkswagen luxury brands reported record sales for 2013, with Bentley posting 19% growth compared to 2012, Audi 8.3% and Porsche 15%.
According to Volkswagen, demand for luxury cars has been increasing steadily in emerging markets such as India, China and the Middle East, as well as in the US where demand has rebounded.
US sales of Bentley in 2013 increased by 28%, Porsche 21% and Audi 13.5% compared to a year earlier.
While Porsche and Audi deliveries grew by nearly 20% in China, sales of Bentleys fell by 3%.
A new all-time record for AUDI

A total of 1,575,500 Audi cars were sold globally, 8.3% more in 2013 compared to 2012, an annual growth of more than 100,000 automobiles for the fourth successive year.
Audi's main drivers of growth in 2013 were in China (21.2%), the US (13.5%) and the UK (14.9%). According to Volkswagen, in China and Europe "the four rings again led the premium segment in 2013 as the top-selling brand."
Rupert Stadler, Chairman of the Board of Management at AUDI AG, said:
"We set an important milestone for Audi in the past year: We achieved our intermediate strategic goal of 1.5 million deliveries two years earlier than planned, and in fact comfortably exceeded it. This means that in the past four years alone, Audi has attracted more than 600,000 new customers."
In the United Kingdom Audi became the leading premium car brand for the first time ever.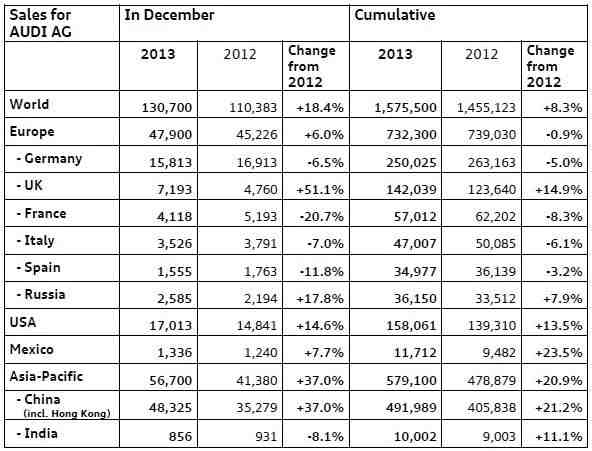 (Source: Volkswagen)
Porsche saw growth across all regions
Porsche delivered over 162,000 cars across the world for the first time in its history, an increase of 15% in 2013 compared to the previous year.
The Porsche 911 has been especially successful, with approximately 30,000 vehicles handed over to customers in 2013.
Bernhard Maier, Member of the Executive Board Sales and Marketing at Dr. Ing. h.c. F. Porsche AG., said:
"Thanks to our strong product campaign and the extension of our business model, we have been able to further enhance the appeal of our brand on a global scale, as demonstrated by the 162,145 deliveries we made in 2013. We are looking ahead to the coming months with optimism and are anticipating new growth with the Porsche Macan and 911 Targa models."
Porsche sales grew in all regions around the world. In its largest market, the United States, 42,323 new cars were sold; an increase of 20.8% compared to the previous year. In China, sales were 20% higher (37,425 vehicles). More than 20,638 cars were sold in Germany.
The Cayenne SUV was the most popular Porsche model in 2013, with sales exceeding 84,000 units. Demand in the mid-engine sports car segment also grew, with sales reaching 25,500 units. In the Boxster model range sales grew by 117.4%.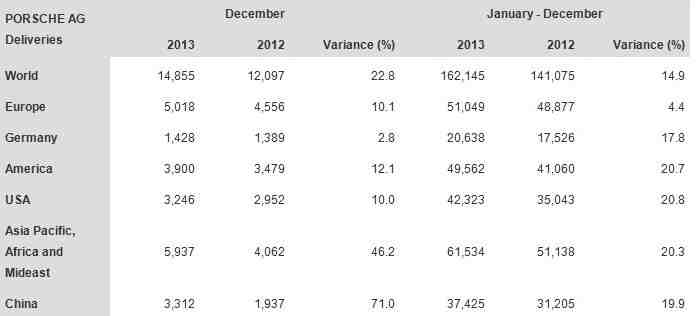 (Source: Volkswagen)
Bentley now sells in 54 territories
A total of 10,120 Bentleys were delivered to customers in 2013, compared to 8,510 in 2012.
While the Americas continues to be Bentley's largest market, sales in Asia-Pacific, Europe (especially in the UK and Germany) and the Middle East posted considerable gains over 2012. By the end of 2013 there were 193 showrooms around the world, an increase of 11% compared to the previous year.
Bentley's Chairman and Chief Executive, Dr Wolfgang Schreiber, said:
"2013 marks our fourth consecutive year of double-digit growth, establishing ourselves as the most sought after luxury car brand in the world. We continue to win new customers and we are confident that 2014 will be another successful year for Bentley. People all over the world love the unique combination of luxury and performance of our cars."
The Flying Spur, Bentley's new model for 2013, saw impressive sales. During the fourth quarter of last year 2,005 Flying Spurs were sold.
According to Volkswagen, Bentley now commands 25% of the super-luxury car market.
Below is a breakdown of Bentley sales according to regions in 2013:
The Americans – 3,140 (+28%).
China – 2,191 (minus -3%).
Europe – 1,480 (+11%). In the UK 1,381 cars (+25%).