The Walgreens Alliance Boots acquisition is set to go through, if shareholders approve the deal. The Walgreens Board of Directors said they will exercise their option to complete the second step to take control of the British/Swiss based multinational pharmacy-led health and beauty group.
According to Walgreens, the transaction would create the world's largest pharmacy-led, health and wellbeing enterprise.
In August 2012, Walgreens acquired 45% of Alliance Boots. The plan now is to take control of the remaining 55%. It expects the transaction to be completed in the first quarter of 2015.
Walgreens Boots Alliance Inc.
Upon completion, the new combined company will be called Walgreens Boots Alliance Inc., and will have four divisions:
Walgreens Co.: the biggest drugstore chain in the US.
Boots: the leading pharmacy-led health and beauty retailer in the UK and Ireland.
Pharmaceutical Wholesale & International Retail: including Alliance Healthcare, Europe's biggest pharmaceutical wholesaler.
Global Brands: the combined company is also setting up a cross-divisional global pharmacy market access group.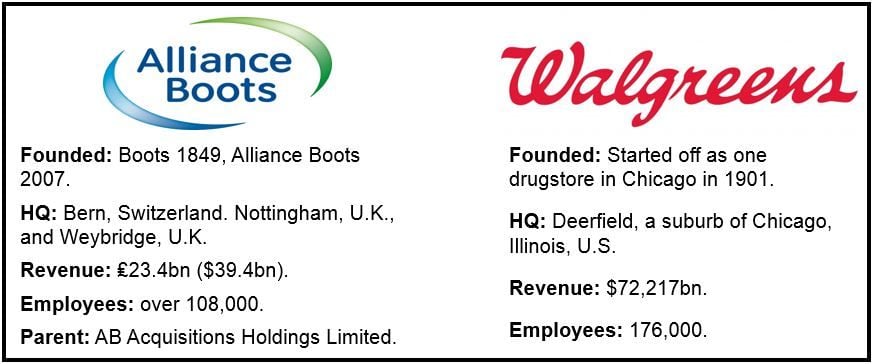 Two giants from America and Europe will merge to create a world leader.
The new entity will comprise a blend of senior management from both firms, including Greg Wasson, Walgreens current President and CEO, who will become President and CEO of Walgreens Boots Alliance Inc.
Stefano Pessina, Alliance Boots' Executive Chairman will become Executive Vice-Chairman of the new entity, responsible for strategy and M&A, as well as Chairman of a new strategy committee of the board of directors.
No tax inversion, says Walgreens
Unlike a string of US companies that have acquired foreign businesses in their quest to move their headquarters abroad to get away from the US, which has the highest corporate tax rate in the world, the Walgreeens Boots Alliance holding company will have its head office in the Chicago area, while Walgreen's operations will stay in Deerfield, Illinois.
The UK Boots operation will keep its HQ in Nottingham, England.
Mr. Wasson said:
"Expanding globally with Alliance Boots will make quality health care more affordable and accessible to communities here in America and around the world. In addition, Stefano and I are pleased with the comprehensive plan we've announced today as part of Step 2."
"These elements will provide additional shareholder value creation, both in the near and long term. I congratulate our teams for getting us to this point and together we have a bright future."
Mr. Pessina described the creation of the new entity as a very positive step for the health care industry. He believes the merger will bring significant opportunities for growth in both the advanced and emerging markets.
Mr. Pessina said:
"Today's announcement reflects the great track record and accomplishments of our people to date and I am convinced that their skills, expertise and commitment will continue to make a positive contribution in the years to come. This combination is a true partnership, further evidenced by the composition of the future management team of Walgreens Boots Alliance."