If you are wasting food in Seattle you could be facing a fine, Seattle residents and businesses were told on Tuesday. Under new local legislation, households face a $1 fine if their trash bins contain more than 10% food. For apartment buildings penalties can be as high as $50.
Local reaction to the new measures have ranged from enthusiasm to accusations that civil servants have gone too far and are turning their city into a mini nanny-state.
Seattle, one of the greenest cities in North America, is aiming to recycle 60% of its waster by next year, from its current 56%. Seattle Public Utilities believes the new rule will increase composting by 38,000 tons annually.
The Council voted unanimously (9-0) to pass the new measure.
Two US cities, San Francisco and Seattle now make composting – breaking down food and gardening refuse into useable soil through decomposition – compulsory in an effort to bring down greenhouse gas emissions.
The United States wastes about forty-percent of its food, while only 5% of food scraps are composted.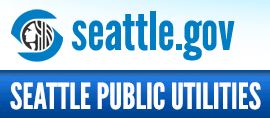 Seattle Public Utilities asked the Council to consider the new measure.
New measure starts in 2015
As from January 1, 2015, Seattle authorities will start issuing warning tickets and fining refuse collection customers.
Refuse collectors will periodically check through people's trash as it is gathered and add details of customers whose food waste makes up more than 10% of total trash content. The fines will be added to their bill.
Businesses and apartment blocks will receive two warnings before receiving a fine.
According to local officials, the aim is purely to increase how much waste is recycled, and not to make money for the city.
In an interview with the Seattle Times, Tim Croll, director of the Seattle Public Utilities Solid Waste, said "The point isn't to raise revenue. We care more about reminding people to separate their materials."
According to the City of Seattle Ordinance:
"As of January 1, 2015, all residents living in single-family structures, multi-family structures and mixed-use buildings shall separate food waste and compostable paper for recycling, and no food waste or compostable paper shall be deposited in a garbage container or drop box or disposed as garbage at the City's transfer stations."
The new rules stipulate that apartment buildings must have compost bins available. However, residents of those buildings do not have to use them.
Councilmember Sally Bagshaw, who sponsored the legislation, said:
"Our growth rate for recycling has stalled. It's surprising, but we still send 300,000 tons of garbage every year to a landfill in eastern Oregon. I think we can do a lot better than that."
Seattle Public Utilities says 4 out of 5 Seattleites already regularly place their food scraps and food-soiled paper in yard waste carts.