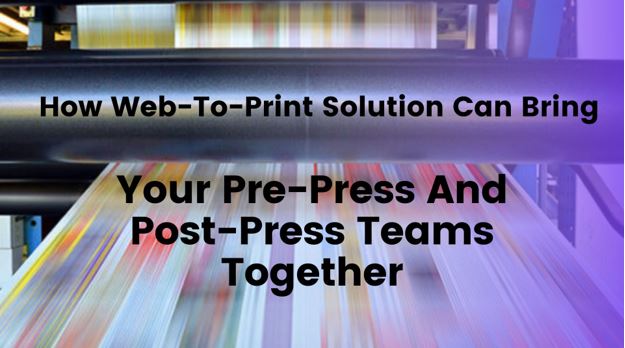 The printing process involves many steps, and every step is essential on its own. Several activities happen even before actual printing takes place, such as pre-flighting and artwork proof creation.
And once the product has been printed, the post-press team gets into action with tasks like cutting, folding, assembling, and packaging. Although please note, not all printed items are subjected to these processes.
Despite a whole industry dedicated to prepress and post-press, most printers often don't have streamlined processes to ensure the two teams collaborate efficiently. But before we discuss how technologies like web-to-print solutions can enable that, let's discuss pre and post-press:
Prepress: an overview
This term is used for activities that occur after a commercial printing company (you) receives a corresponding graphic file for print from a customer.
The prepress team validates information received to ensure the file meets proper production requirements, such as specifications. Upon validation, an artwork proof is created, which is sent for customer approval.
Depending on the scale of printing operations, the prepress process may also include tasks such as color separation, transparency flattening, or color management to ensure a high-quality finished product.
A specific prepress team is required because different file sizes and types and output needs can slow down the printing. However, having well-oiled personnel can result in efficient file output quickly and efficiently.
Post-press: an overview
The reason the process forms a crucial part of the overall printing process is that it helps determine the final shape and feel of the printed product. Brochures are neatly folded. Books are cut and bound. Posters are trimmed, smoothed, and rounded. Boxes are folded, assembled, and packaged to create the final product.
Even though the prepress team works hard to ensure that the artwork produced is of high quality, the post-press team also inspects the final product for defects and flags any issues early on to deter waste and stop fault order shipment.
Whether you sell custom t-shirts, printeriors, marketing materials, you should have two efficient prepress and post-press teams. Deploying a web-to-print software solution can ensure transparency and increase effective collaboration between the two.
How web2print software solution can help pre-press and post-press teams work better
Faster artwork approval; faster production
Due to limited human intervention, the artwork submitted (whether designed from scratch or customized on the web-to-print solution by the customer) is easy to review and sign off by the prepress team. That leads to lesser faulty orders.
When the signed off printed order reaches the post-press team, they can immediately start packing or folding it – depending on the product. When the start of the printing process is smooth, the rest of the activities can be undertaken faster.
Transparent job sheet and order management
The application automatically produces a job sheet with order on the web-to-print software solution whenever a new order comes in. That way, your prepress and post-press teams can get rid of the manual job sheet creation and avoid human errors.
Both the teams know exactly when they can anticipate the order to come to them. For example, if a prepress team finishes reviewing the artwork, they will give 2-3 days to the customer to get back to them with the sign-off.
The post-press team will schedule their work accordingly, considering the order will take time during the printing process.
Smooth production workflow management
Adding to #2, always keep track of the job status and let your team be notified at every step until the order is shipped off. With the help of a web-to-print software, you can create various workflows and prioritize only those orders that need to be processed further.
Not only your prepress and post-press teams can see the status of any job, but also your sales reps and customers can have a bird's eye view of the order status online with the web-to-print software solution.
A lower number of frustrated customers
In the end, everything boils down to your customers. If they get a prompt and efficient service every step of their purchase cycle, they are bound to come back to you for future print orders. A prepress team ensures the artwork submitted for print works from a technical perspective.
Due to limited human intervention, the artwork submitted (whether designed from scratch or customized on the web-to-print solution) is easy to review and sign off.
A post-press team manages assembling/folding and packaging of the printed item so that the customers receive what they have paid for. When the end-to-end process is taken care of, the final output will be correct, and your customers will be happier.
Wrapping up
Functions across any organization have to work in tandem with each other. After all – their business goals are the same. The printing industry is no exception. It is necessary to ensure transparency across all production workflows to reduce overall costs, avoid reprinting jobs, and keep customer satisfaction levels high.
Is your printing business in need of a web-to-print software? We can assist! Book your personalized demo, or give us a ring at +1-347-647-9799, and a member of our staff will contact you promptly.
---
Interesting related article: "Print marketing is still a major player in today's marketplace."