WH Smith has apologised for charging £7.99 for a tube of Colgate toothpaste at its hospital shops. Many other products, nappies, and mouthwash were also on sale for exorbitant prices. The rip off prices triggered a national outcry by patients and consumers. The same toothpaste in its non-hospital shops sells for £2.49.
A rip-off is something or a situation in which the customer paid far too much. The product is not worth what the person paid.
According to WH Smith, which has shops in railway stations, airports, and motorway service stations, the high prices were not deliberate. The retailer also has shops in high streets across the country.
The British retail giant blamed the high prices on a computer error. The error resulted in several toiletries selling in its hospital outlets at nearly eight times their high street price.
WH Smith, which is based in Swindon, Wiltshire, said it was carrying out a review of prices across the country.
A spokesperson said:
" We would like to apologise to our customers for a small number of recent pricing errors in our system."
"The errors have now been rectified and the extra profits from these sales will be donated to charity."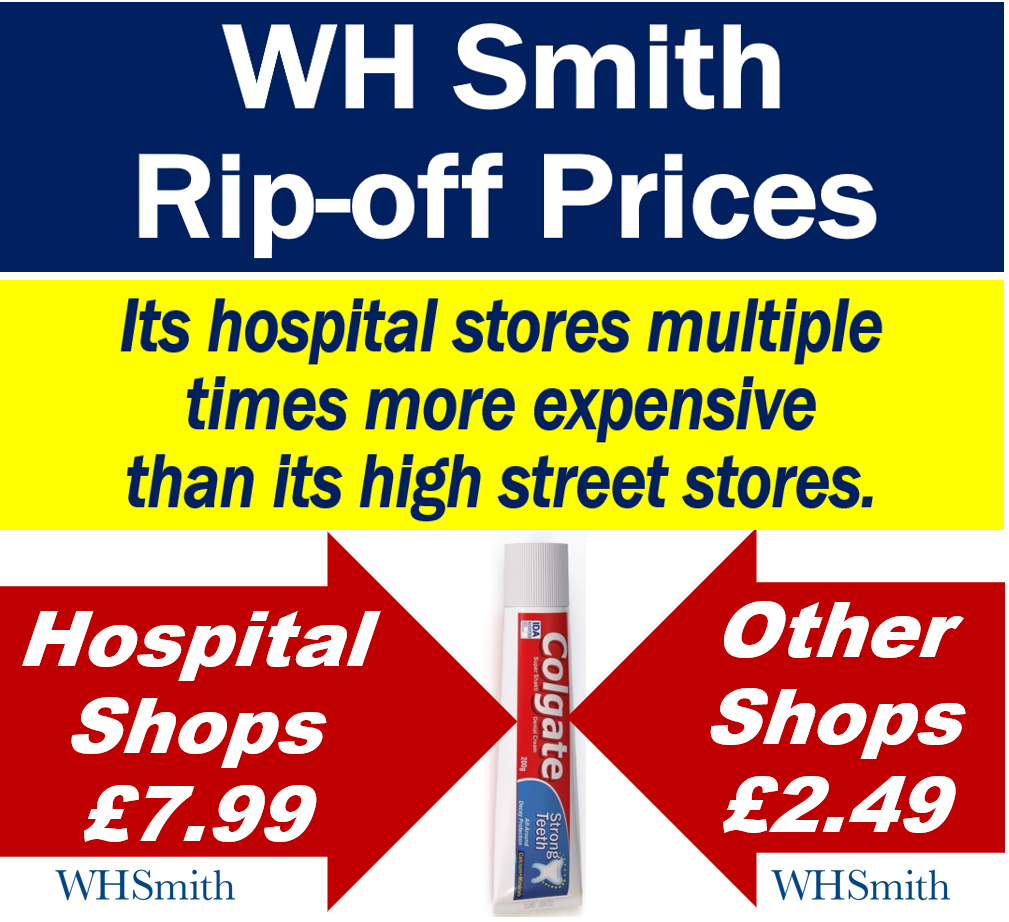 The retailer said that it sold eighty-nine toothpaste tubes at its Pinderfields Hospital branch in Wakefield at £7.99 each.
WH Smith caught overpricing before
This is not the first time WH Smith has charged more in its hospital shops.
In 2015, the BBC accused the retailer of exploiting hospital customers by charging them more than in its high street stores.
In 2015, at Pinderfields Hospital, it was selling, for example, a 750ml bottle of water for £1.89. However, the same product sold in its high street shops for just £1.
In an interview with the Telegraph, Rachel Power, CEO of the Patient's Association, said:
"When people are unwell and in hospital, and therefore unable to go elsewhere with any ease, they should be able to expect retailers not to exploit their situation for profit."
If WH Smith operates in a hospital with no competition, it has a captive market. In other words, there is a monopoly within the hospital. Should it be allowed to charge what it likes?
Perhaps hospitals should place posters with website addresses of online retailers that deliver directly to patients. If WH Smith had to compete with the likes of Amazon in the hospital retail sector, it would have to offer competitive prices.