Proactive chat is an automated popping-up message that stimulates your website visitor to get into a conversation about help they need and thus to stay longer on your site.
Proactive chats are equally popular among Internet users of all groups. People tend to choose this method of communication as it is associated with less discomfort in the event of a negative outcome of the conversation compared to a telephone conversation or personal communication with an employee of the company.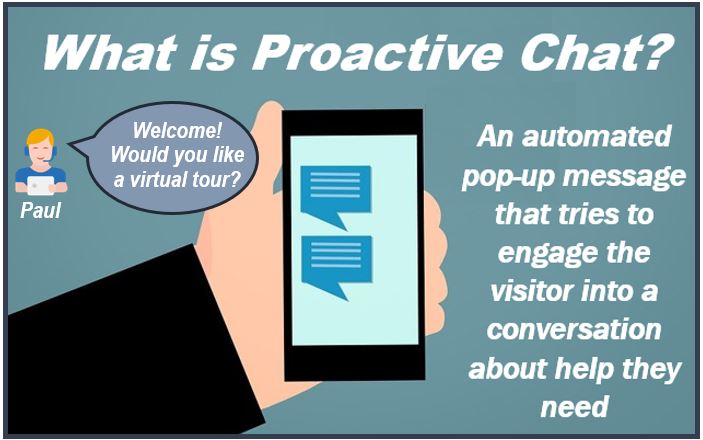 ---
Do proactive chat best practices depend on the scope of the company?
Customer service priorities vary by industry.
The retail industry requires relatively quick and short chats. Clients of such firms do not ask many questions.
Customers of wholesale companies are much more curious.
The main value of the company is the time of its customers.
---
Here is some advice how to make better value of proactive conversation
Choose the right form of contacting the client.
Not every proactive message needs to look like a chat invitation. You can use multimedia content, product videos, additional information about the product of interest, special offers and coupons.
Analyse customer data.
The wrong position about proactive chat is that the more often the window on our website pops up, the higher the conversion will be.
Measure the right metrics to get the results you want.
The attention of marketers is focused on such indicators of productivity as response speed, chat duration and use of additional tools of an online consultant.
Identify the customers who will get the biggest benefit from proactive live chat.
Customer journey maps can help you assess where a company sees the greatest opportunities to use a chat based on its business goals.
Target customers who are the closest to making a purchase.
Not all shoppers are created equal.
Determine the best moment to reach a client.
Use the customer journey map to determine when proactively reaching out to a customer will have the best results. To shorten the connection time with the client, instead of chat, you can use the instant client connection widgets.
You need to decide what you will offer.
Some of the buyers probably want to see just a little additional information about the product of interest.
Don't ignore the look of your proactive special offer messages.
Keep in mind that your click-through rates and conversion rates depend on the appearance of your hits.
Invest in your operators (sales managers, technical support).
The qualifications of operators who respond to clients directly affect the effectiveness of your proactive chat.
You need to remember: proactive special offers can simply help your site visitors at various stages of their customer journey by inviting them to chat online with your customer service specialists.
---
We have one good example:
You can invite visitors to chat during the checkout process. As a result, customers will have more confidence in their purchase, they will have a better shopping experience and you will have active customers at your disposal. This can be achieved by giving the site visitors an option to chat with a live person.
---
Do you want to have more features for your proactive chat?
Make different variants for proactive chat invitations for different groups of clients.
While a proactive chat invitation is an automated process you should try to achieve the greatest possible individuality in your communication.
Mind the possibility of proactive chat invitations in different languages.
You can use chat triggers help in any languages if your company operates in more than one country.
Connect with your client at all stages of their client way.
You can reach clients from specific pages.
Set a specific time for a proactive chat invitation.
Most companies normally give customers about 30 seconds before contacting them.
Make your proactive messages automated.
But you should remember that interaction with a living person is always much more efficient.
Distinguish between new and returning customers.
The button for the chat invitation can be customized separately for each of these customer groups.
---
You can check how to work proactive chat yourself
If you're unsure of when, where, or how to try to proactively reach out to your customers test the options by yourself. As a rule, most companies give the client a little preliminary study of the site, on average, about 30 seconds.
A proactive chat invitation should look like an additional feature, not something that is necessary for the visitor. Things like this can annoy people, and as a result, your client can go to someone else. If the client has refused to get help in the chat, there is no need to insist on a chat scenario and offer them this opportunity over and over again. If clients need your assistance they will definitely let you know.