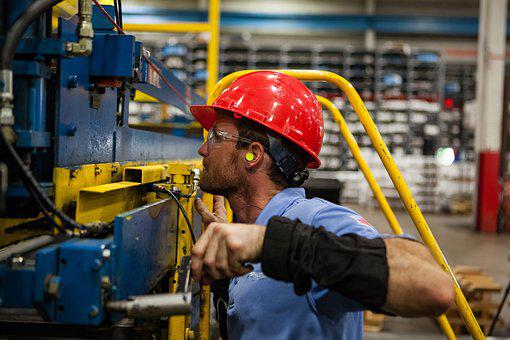 Manufacturing is the whole process of producing an industrial product or a good by processing a raw material or semi-processed product. And manufacturing includes a number of sub-industries. Examples of manufacturing that can be given to them are listed below:
food and beverages,

textiles, leather, clothing, and footwear,

wood, pulp, paper and converted paper,

primary and fabricated metal,

chemicals, petroleum, and coal,

non-metallic minerals, polymers, and rubber,

printing and recording media,

vehicles, machinery, furniture, and equipment.
Printing and publishing, oil refining, food, beverage, and tobacco manufacturing, as well as the production of textiles, home appliances, wood, and paper goods, are major manufacturing sectors. New South Wales and Victoria account for almost two thirds of manufacturing jobs.
In the manufacturing sector, which is very important for Australia, accidents may occur if the necessary precautions are not taken.
The industry has a high number of work-related deaths, injuries, and manufacturing illnesses. Such a situation may result in loss of health for the employees and loss of income because they cannot work for a long time. All necessary precautions must be taken to avoid such a situation. According to Safe Work Australia, some of the most common manufacturing hazards in Australia are listed below:
lifting, pushing, and pulling

(manual handling),

slips, trips, and falls,

working with dangerous machinery and equipment,

hazardous chemicals,

noise.
So, what precautions should be taken to prevent these hazards from causing an accident?
The formula for eliminating manufacturing risks is quite simple. Identify the hazards, identify the risk that each hazard can cause, control the risks, and make sure everything goes as planned! Although it sounds simple, it requires more effort and attention.
A safe working environment should be provided.
Safety is without a doubt one of the first responses to the issue of what is the most crucial factor in preventing workplace accidents. Assuring safety is one of the best strategies to prevent workplace accidents.
The life-saving role of warnings and signs should not be forgotten.
Posting warnings is one of the most efficient strategies to safeguard visitors to your business, such as employees or clients. Accidents can be effectively avoided by using indicators and warning signals. For instance, pedestrians will be safe if a forklift line or a warning sign designates the area where the forklift is operating.
Safety instructions must be followed
It should be made clear which machine is being utilised, how it is being used, what it is being used for, and the factors that need to be considered. Accidents can also be prevented by carefully reading the instructions for the equipment. A brief instruction concerning the operation, application, and safety of the machine can be provided to help prevent workplace accidents. This practice is not a time waster; rather, it significantly improves your health. Having thorough knowledge of the device will drastically cut down on potential accidents.
Equipment control is important to prevent accidents, regardless of the business sector.
Check that you have sufficient equipment for each area of ​​the workplace. Rectify any deficiencies. The lack of some equipment needed in the workplace can sometimes lead to an unhealthy working environment and therefore to accidents. In addition, the still use of old and unusable equipment can also cause work accidents. For this reason, recycle equipment that has expired, of course, recyclable ones.
Quick facts about accidents in the manufacturing sector in Australia:
The manufacturing industry employed 1.00 million people in 2011–12 (9% of the Australian workforce). 96% of workers in this sector were employed and protected by workers' compensation.
Over the five years from 2007–08 to 2011–12,

113 Manufacturing workers died from work-related injuries. The overall fatality rate is 2.21 fatalities for per 100,000 employees, which is little under the national average of 2.29.

Being hit by falling objects accounted for 22 fatalities. Of these, 5 included packing, fittings, and lifting equipment, while 8 involved conveyors and lifting equipment like cranes and forklift trucks.

Body stressing represented 41% of claims—many of these claims were due to muscular stress while lifting, carrying, or putting down crates, boxes, barrels and other containers as well as handling metal products.

Being hit by moving objects accounted for 18% of claims—more than half of these involved materials, substances and equipment falling or moving into the path of the worker.

Falls, trips, and slips of a person accounted for 15% of claims—most of these involving stairs or falling over objects in traffic areas.
What compensation are you entitled to in Australia, NSW if you are injured in the manufacturing industry?
The amount you can claim for workers' compensation is closely related to your personal situation. That's why we recommend that you talk to workers compensation lawyers in Sydney first and discuss your specific situation in detail. On the other hand, if it is necessary to generalise, you may have the entitlement to claim the following:
Weekly wages based on your incapacity to work,

Medical and rehabilitation,

Traveling expenses,

Payments to help you return to work or to retrain you to return to work,

A lump sum payment for permanent impairment.
You can find out from personal injury lawyers in Sydney how your claim should be made and what documents you need for it.
---
You may be interested in: Top 5 tools to use for your remote team