Small businesses are well-known for their high ambitions and drive. Furthermore, their employees are motivated and offer a unique range of skills. This is one of many advantages that help small businesses to succeed.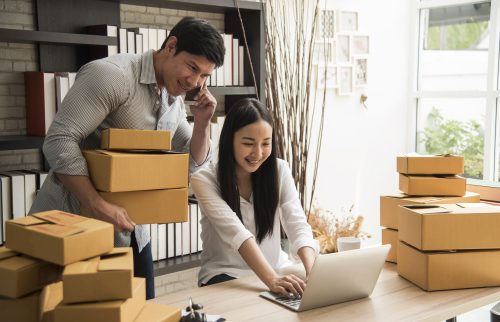 However, small businesses also face their own challenges. Notably, problems and failures can hit smaller organizations hard, as they have few resources and little resilience to deal with such situations. This is where these businesses can benefit from studying the successes and failures of larger brands, learning from the things that work, as well as those that don't work so well.
In our dynamic, complex world, a small business can learn from the experiences of big business before taking a big step. This will not only eliminate the risk of failure but will help them to prosper. Read on to learn the tips and tricks that small businesses can learn from larger companies, whether in the retail, financial or other sectors.
Focus on Your Employees
Employees are the heart of any business, no matter its size. However, it is essential to pay attention to your employees so that it becomes one of your core values. Creating an environment where employees are supported, celebrated, and empower each other, will boost productivity and improve employee retention, helping your business to be more successful.
If your employees are satisfied, they will be willing to offer extra support to your business. Additionally, they will be motivated to make your business successful, because they see how this benefits them. That being said, big companies have more time to focus on their employees as part of established organisational structures. By adopting this strategy and following the big brands, you can reap these rewards from your employees.
Establish Processes to Ease Pressure
The early stages of all businesses are not only crucial to their future, but they can be very chaotic. There are multiple projects to be completed, which can cause anxiety to inexperienced employees. Generally, small businesses just want to get started, but too much haste can lead to a host of issues.
Big companies have all the necessary processes in order, established over years of experience. Therefore, small business can learn from big business how to manage the environment inside the office in order to ease pressure on your employees. Efficient processes and systems will greatly help to reduce stress while boosting productivity and employee wellbeing.
Know Your Strengths
The market is already packed with big companies, which can make it hard for small business to survive. However, if your business is well aware of its strengths, this can allow you to evolve, adapt, and thrive. Aligning procedures and operations in a company can allow you to build your business. Additionally, this can help you to understand how and what you want to be.
Big businesses have already made their place in the market: they are well-known and have an established reputation. They know their own strengths and their consumers. Small business need to learn from these strategies and apply the same approach. Remember, you do not have do everything yourself nor do you have to reinvent the wheel. Instead, learn from those who have come before you!
Update Your Technology
In our modern world, it is critical for small businesses to keep up to date with the latest developments in technology. Taking advantage of the latest technology helps your business to reach more customers, be more productive and allow your employees to work more efficiently.
Big businesses are well aware of the importance of technology in our current dynamic market. They invest in technology to progress and develop. However, small businesses are often short on budget and try to keep spending to a minimum, which puts them at a disadvantage. By adopting the strategy of the giants in the market you can plan for the future and choose the technology which will serve you well in the long-run.
Prioritize Your Customer
All businesses need to know their customer and understand their needs. By studying the needs and pain points of your customers, you can refine your business model, even if it is different from your original ideas.
Big businesses spent a great deal of time and money researching their customer base and understanding their needs. So small businesses need to follow the footsteps of the biggest brands and cater to their of consumers.
Wrapping Up
Starting as a small business can be challenging, but if you follow the right tactics your business could reach new heights. Starting out in the business world gives you the opportunity to learn from the failures of market giants and avoid their mistakes. It is important to plan each step carefully and execute the strategies which suit your business. By researching and applying the right strategies, you can create a roadmap that will help your business reach new heights!
---
Interesting Related Article: "IT Safeguards For Small Business Owners"