We do a lot of research before choosing a career prospect. From required skills to the various opportunities pertaining to the chosen field, we seek every possible information available around. And, when the industry is still in its nascent phase, the exploration becomes even more complex, yet necessary. With that said, those wanting to start a career in 3D printing are always keen to find answers to their queries. Not just the available courses, but the required pre-skills along with the post-job openings, a lot goes in the mind of the individuals.
This is all because not many universities offer courses on 3D Printing. And, there aren't many experts available from the field. Well, the bright side is that these challenges make the 3D printing career opportunities even more attractive. With less skilled workforce able to contribute to the budding field of additive manufacturing, the demands are going to stay elated. This encourages many aspirants to focus on this less-explored technology.
So, if you wish to join hands with the most revolutionary technology of all times that is certain to change the way businesses work, this is the right time to start. And, to help those career seekers with a helping hand, we have curated a list of few things one must know before starting a career in 3D printing.  
What Skills You Must Have?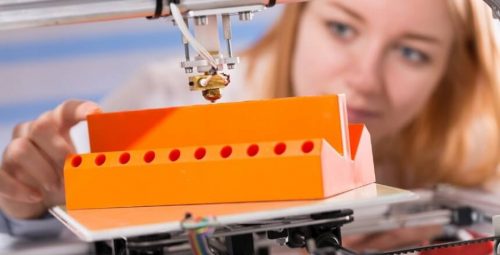 Poised to formulate many industries' workflows in the coming years, 3D printing has become the most raving chapter among our next generation. Hence, it is important to find out the skills one must learn if wanting to grab a chance to fit in.
Starting with the familiarity of 3D Design applications such as 3D CAD software, there are many other things that come in the way. Learning about these applications would allow you to create a base for your career. These designs are what converts into real models later. And, if you know how to work with these apps, you can relax a bit more than those completely naïve to the niche.
But the learning journey does not stop here. You must gather the basics of all 3D printing processes along with the mechanical operation of these 3D printers. Having an idea of the various advantages and disadvantages of implementing 3D Printers would assist you when taking decisions later. Also, it would help while choosing the 3D Printing process you wish to go with for your specific needs.
And, you should not rest when collecting information about the latest breakthroughs and developments going around. You must understand the importance of blending creativity with mechanical precision to adopt best 3D Printing practices.
What Degrees Can Help Start a Career in 3D Printing?
Do not be overwhelmed after reading the expertise you must gather before planning to set your career in 3D printing. Because, there are a number of courses, online as well as offline to help attain required skills. By opting for any of the degree programs listed below, you can certainly find huge prospects going forward. 
Engineering Degree: As always, an engineering degree pays back. And, the same is the case with the 3D printing industry. Engineers who understand the technology and know how to maintain 3D printers as well as operate these machines, could enjoy huge demand. Moreover, engineers are capable of finding designs more accurate and mechanically strong. Hence, making their place within the industry stronger too.
Design Degree: Mentioned above, 3D design degree could help acquire an in-depth process of preparing the models for printing. Animation and design degree, in the related field, helps gain knowledge of various 3D tools used for animation and creation of 3D models. These tools help build web graphics, animated films and more. And, these designs are those that translate from visual concepts to tangible objects.
Biomedical Degree: 3D printing in the medical industry is growing exponentially. This increases the need for Medical researchers capable of coming up with working organic models along with functional arterial implants using a variety of 3D materials. These experts can become pioneers for developing better medical solutions triggered by 3D Printing.
Software Developer Degree: The need for upgraded and more user-friendly applications for various 3D printing software will always be in demand. This could help programmers instill their worth in the 3D printing domain. These professionals could design cross-platform applications offering enhanced interfaces, and packed with a greater number of functionalities. Ultimately, contributing in bettering the productivity of 3D printers. If you'd like to learn more on 3D Printing software, before considering a Software Developer Degree, check out  Pick3dprinter's list of The Best Free 3D Modeling Software for Beginners.
What Career Options Do You Have?
Finally, coming back to the career options in 3D printing, this is where you can relate to the skills and degree with a better vision of where you want to be in the future. But before we list a few alternatives, do not forget that the industry is thriving. And, in the coming future, the opportunities and career role will expand as well. So, you can expect to witness more opportunities than listed below.
3D Designer
The role of 3D designer is very important. This responsibility includes designing concepts that can be converted into tangible objects. You must have eyes for exploring new ideas while able to point flaws for models' iterations.
3D Printing Expert
As the name suggests, you must be versed with all the settings of the 3D printers for preparing files to upload to the 3D printer. This role involves verifying designs to ensure these meet customers' specifications.
3D Prototyping Expert
Living the role of 3D prototyping expert, one must be capable of delivering a variety of versions with edits in time. Also, keeping cost effectiveness as the key selling point.
Sales Manager
Those selling customized prototypes or end products, must have basic knowledge of 3D printing techniques, and the various aspects of the industry along with the skills required for a sales person.
Professors
Well, to create professionals needed for increased demand within the 3D printing industry, universities will hire more professors with such background in 3D Printing.
The Conclusion
Obviously, it is no brainer to gaze at the opportunities lying around related to the 3D printing industry. With more people engaging in 3D printing, the competition between entrepreneurs is taking a sharp rise. The awareness about the benefits of 3D printing and its application is also making its way through different niches, which will for certain create a need for more experts in the domain.
---
Interesting Related Article: "Rapid Prototyping And Its Advantages Explained"