Workplace romance is much more common than people think.
Thirty-eight percent of employees responded in a CareerBuilder survey that they had dated a co-worker, and 16% said they had done it at least twice.
The Harris Poll, conducted on behalf of CareerBuilder, surveyed 3,008 full-time, private sector employees across a range of industries and company sizes from November 6th to December 2nd, 2013.
Workplace romance and marriage
In many cases a workplace romance can end up at the altar. Thirty-one percent of interviewees who had dated a work colleague ended up marrying them.
Twenty percent of those involved in a workplace romance revealed that at least one of the pair was already married at the time.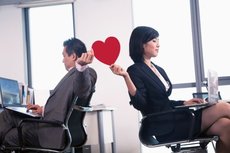 Twenty-four percent of people dating work colleagues said that the other person was higher up within the company, including the boss. Only 3%, however, believed the relationship helped improve their career prospects.
What are the most romantic workplaces?
Not all industries have the same prevalence of workplace romance.
Below is a list of industries and percentage of respondents who dated a co-worker:
Leisure and Hospitality – 57%.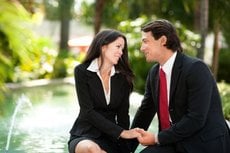 Information Technology – 46%.
Financial Services – 38%.
Where do office romances start?
Employees are much more likely to arrange dates when they are not working. Twelve percent said it all started outside work, 11% during happy hour. Happy hour is a period during the day when bars have special offers, such as two for the price of one.
Ten percent admitted to starting a romance during a late-night working session, 10% while having lunch together. Nearly 1 in every 10 (9%) said it was love at first sight.
Thirty-nine percent of co-workers who dated said they had to keep their relation a secret.
Twenty-six percent of those who dated a co-worker said they ran into work colleagues while out socially with their workplace sweetheart. Forty-three percent of them pretended that they were not going out together until that co-worker was gone.
Tips on workplace romances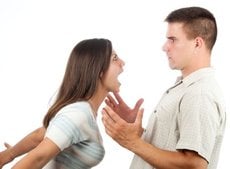 What are the rules? – read the company handbook. In some organizations or firms there are strict policies regarding office romances. Make sure you are aware of the rules before deciding on whether to turn a professional relationship into a romantic one.
Be careful – while some relationships can blossom and lead to something permanent and loving, others can lead into total disasters.
Seven percent of respondents who had had a workplace romance said they eventually had to leave their jobs because the relationship had deteriorated. Before taking the first step, get to know the other person better first.
Be professional at work – do not mix your work like with your personal life. Avoid expressing affection in the workplace, and do not involve co-workers in personal confrontations.
Be careful with social media – what you post on social media can have an effect on the relationship and also your professional position and career prospects.