England fans are ecstatic at reaching the World Cup 2018 semi-finals. In every World Cup, since 1966, our hopes of becoming champions again have repeatedly been smashed. We have either been eliminated before the tournament, didn't make it beyond the group stage, or got beaten later on by Brazil, Germany, Argentina, and Portugal.
Here we are again, this time we have reached the semi-finals. It has been twenty-eight years since we got this far. Pessimism has given way to optimism.
We are just two matches away from being the 2018 World Cup champions. All we have to do is beat Croatia and then either France or Belgium.
View from the floor at full time @BoxparkCroydon yesterday what a day!! pic.twitter.com/ivki9m3eyQ

— Plastician (@Plastician) July 8, 2018
World Cup 2018 – viewing figures
It is much more difficult these days to get accurate viewing figures. Since the advent of the Internet and online streaming services, TV figures alone do not mean much.
England vs. Sweden
Approximately 19.9 million people tuned into BBC to watch England versus Sweden. According to the British Beer and Pub Association, about 3.5 million customers watched the match in the country's 40,000 pubs.
A further 3.5 million people watched it on BBC iPlayer, an internet streaming, catchup, radio, and TV service from the BBC. In fact, the site crashed during the match!
England vs. Colombia
This was a nail-biting end of match. After extra time there was no winner, meaning we were facing a penalty shootout. England had lost every World Cup penalty shootout.
Twenty-four million Britons tuned into ITV during the penalty shootout. It was the largest television audience since the closing ceremony of the London Olympics in 2012.
At one point during the match, four out of every five TV viewers across the country had their eyes glued to match.
Approximately 3.3 million people watched the shootout online via the ITV Hub.
During the match against Colombia, the British Beer and Pub Association said Britons downed an extra 16 million pints.
Group stage viewing figures were considerably lower. During the England vs. Tunisia match, for example, only 18 million people were watching on TV.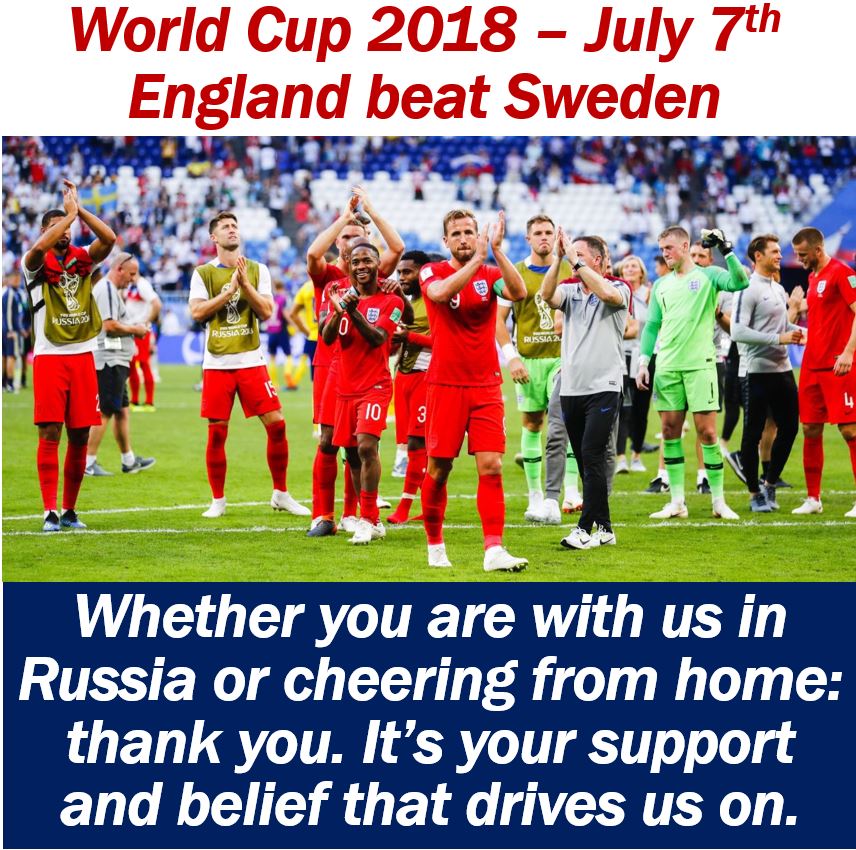 World Cup 2018 – Fingers crossed
Until Tuesday, when we play Croatia, millions of Britons will be walking around in a daze. A trance-like daze drenched in hope, apprehension, excitement, anticipation, and optimism.
I am currently in Cancun, Mexico, with my family. Mexican commentators and sports writers believe England has a good chance. A good Spanish-speaking sports paper, Mundo Deportivo (Sports World), says that England beat Sweden easily.
However, in an article, Francesc Aguilar wonders whether Sweden might not have been in top form.