Yahoo has launched a mobile app called 'Yahoo Video Guide' which makes it a lot easier for people to find out which video-streaming service their favorite TV shows and movies appear on.
The app allows users to search for video content and launch what they want to watch directly in video-streaming apps that are already installed on their device, such as Netflix, Amazon, Hulu, and HBO.
Yahoo Video Guide analyzes the streaming video apps that users have installed on their phone before customizing its guide – meaning that people won't be directed to content that they cannot actually watch.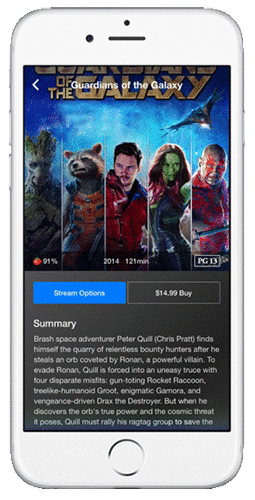 The Yahoo Video Guide app.
Titles show a brief summary, its Rotten Tomatoes rating, streaming cost, and where it can be watched for free (if available).
Robby Stein, the senior director for product management at Yahoo, said in a blog post announcing the launch:
"As your favorite movies and TV shows continue to migrate from the cable box and into a variety of streaming services, it's becoming increasingly painful to actually find and watch them. That's why we built Yahoo Video Guide – it's our first step in bringing you an easier, faster way to find and stream your favorite movies and TV shows in the cord-cutting age.
"Now, you can quickly and seamlessly search across your services to find where the latest season of your favorite show is streaming. You can then start watching instantly by tapping a playback button that redirects you to the right app on your phone, including HBO, Netflix, Amazon and Hulu."
Stein said that we've reached a "tipping point where people are daisy-chaining a bunch of apps together to get the videos they want,"
Stein added: "With Yahoo Video Guide, you'll also stop missing out on the best new titles added to your services. And if you still don't know what to watch, our Mood Picker can help you decide. Whether you're looking for a thriller with a romantic twist or a dark comedy, you can find the perfect movie or TV show – just choose the GIFs that match your mood, and we'll make recommendations based on fit."