Microsoft's Bing.com and Live.com, as well as Yahoo, which uses Bing technology in its searches, had outages on Friday, due to a defective code update.
Microsoft's search engines were up and running within half an hour, while Yahoo, which signed a 10-year contract in 2009 to be powered by Bing, was down for over four hours.
Internet users attempting to carry out searches using Yahoo.com received an error message explaining that engineers were working to resolve the problem.
Reuters news agency reported on Friday that the two companies insisted that their outages were not caused by hackers or any kind of outside cyber attack. A bad code update caused the problem.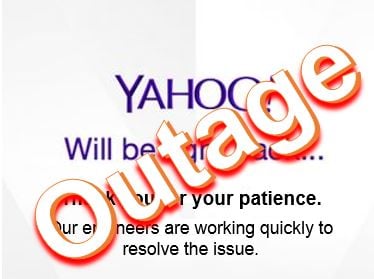 Yahoo search was down for four hours.
While acknowledging there had been an outage, neither Yahoo nor Microsoft explained what caused them.
A Microsoft spokesperson said on Friday:
"This morning, some of our customers experienced a brief, isolated services interruption which has now been resolved."
A spokesperson on behalf of Yahoo announced:
"We are aware that Yahoo search is unavailable to some users. Our engineers are working to restore the service at the earliest."
After repairing the defects, neither search engine was down again.
According to Voice Chronicle, people familiar with Microsoft affairs said that its initial attempt to take out the defective code failed, which forced the company's technical team to shut down the groups connected to its servers. This affected Yahoo searches.
There were reports of problems in other sites connected to Bing, including MSN, Hotmail and Outlook.com. They are all running smoothly now.