Despite posting a year-over-year decline of 7.5% in December, 2014 was a record-setting year for condominium apartments and townhouses in Calgary, according to the Calgary Real Estate Board (CREB).
Single family sales in December reached 708 units, which was an 8.3% fall compared to December 2013. Total condominium sales over the same period fell by 6%, but overall activity was in line with long-term averages.
CREB president Bill Kirk said:
"It is not unusual to see slower activity in the month of December as consumer focus often shifts toward the holiday season. While monthly sales activity has slowed, it is consistent with December activity over the past several years. Overall, annual sales activity has actually increased by 9.3 per cent over last year."
A total of 4,742 condominium apartments were sold in Calgary in 2014, which was 18% more than in 2013. Townhouses increased by 17% to 3,737 units. Both sectors posted record annual sales.
CREB chief economist Ann-Marie Lurie says the changing economic climate will likely moderate housing market conditions this year, with December being the first indication of this new trend.
The term 'economic climate,' in this article, means the same as 'economic conditions.'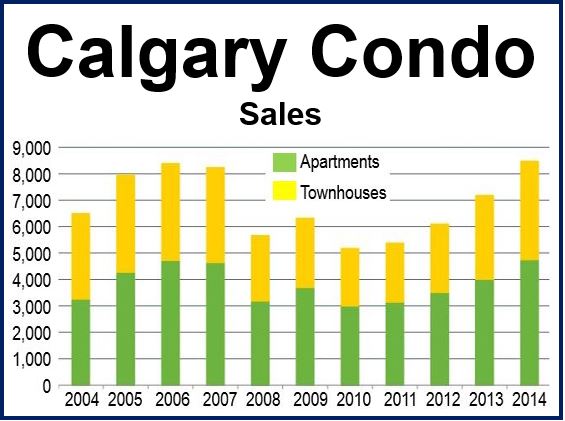 Source: CREB Calgary Regional Housing Market Statistics.
Ms. Lurie said:
"However, any pullback that may occur needs to be kept in perspective as 2014 housing activity far exceeded our expectations."
Sales and new listings in the City of Calgary totaled 25,664 and 36,329 respectively in 2014. New listings grew by 13% and sales by 9% compared to the previous year, which contributed to an overall increase in inventory.
As supply increased, residential benchmark prices continued moderating in December. However, the average benchmark gains were above 9%. Unadjusted benchmark prices for single-family, townhouse and condominium apartment properties remained unchanged compared to November.
Single-family sales increased by 5.5% in 2014 to 17,185 units. The single-family sector accounts for 67% of all sales.
Mr. Kirk said:
"The activity that we've seen in the condominium sectors is, in part, is related to product availability in the lower price ranges. The under $400,000 segment of the single-family market within city limits has been declining. With the bulk of condominium products available for under $400,000, more consumers have been turning to these sectors for their housing needs."
While demand for condominium apartments was strong, supply levels increased. New listings in 2014 totaled 7,297, which were 30% higher than in the previous year.
Unadjusted condominium apartment and benchmark prices are now higher than in 2007, despite the increase in listings.
CREB says it will publish its 2015 forecast at its annual Forecast Conference and Tradeshow on January 14th, 2015.