We are discovering 1,451 new-to-science marine creatures annually (four per day), and more than 1,000 fish species every eight years, says the World Register of Marine Species (WoRMS), a database headquartered in Belgium, believed to have the most comprehensive list of names of marine organisms.
According to WoRMS, we know about 228,450 different species of marine animals and plants.
The more than 200 editors collaborating with the WoRMS project found that many named species entered over the past 250 years were duplicate identities. Just one species of snail, the Rough Periwinkle (Littorina saxatilis), was entered 113 times under different names.
The champion of misidentification, the Rough Periwinkle (Littorina saxatilis), has been entered under 113 different names. (Image: Lifewatch)
Of the 228,450 marine species known to science today, 86% (195,000) of them are sea animals, including more than 18,000 different species of fish described since the middle of the 18th century, over 1,800 sea stars, 816 squids, 93 dolphins and whales, and 8,900 clams and other bivalves.
The other species are types of seaweeds, kelp and other plants, fungi, viruses, bacteria, and single cell organisms.
WoRMS co-chair Jan Mees, Chair of the European Marine Board and Director of VLIZ (Flanders Marine Institute), said:
"Though a few relatively minor gaps remain, we consider the register now virtually complete with respect to species described throughout scientific history."
"And, of course, we are constantly updating with newly-described species, revisions of taxonomy, and adding occasional species that have been overlooked."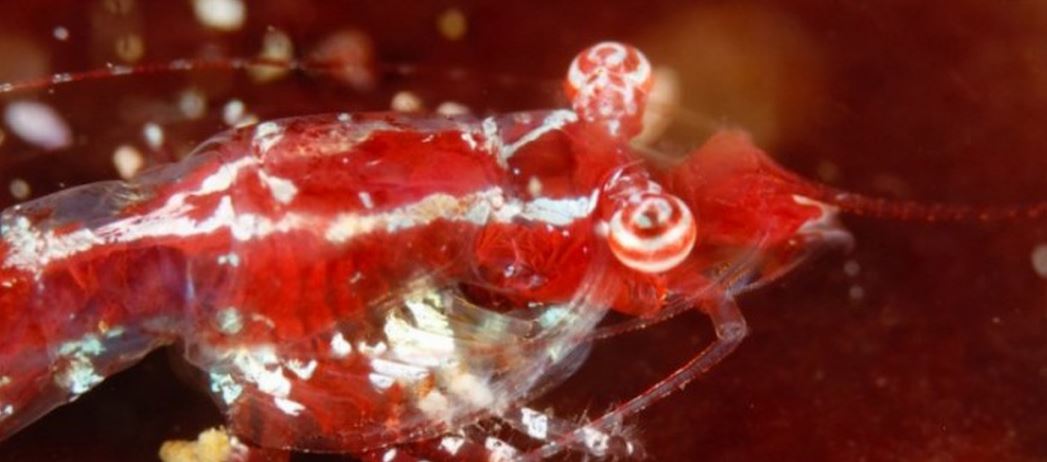 The 'star-gazing' shrimp (Mysidopsis zsilaveczi) was discovered off the coast of South Africa in 2014. Its eyes are fixed in an upward direction. (Image: WoRMS)
Many species waiting to be described
WoRMS estimates that there are at least 10,000 new-to-science species in labs worldwide waiting to be described.
Nicolas Bailly of the Hellenic Center for Marine Research, a fish specialist at WoRMS, said it is amazing that new species of relatively large marine animals are still regularly discovered and described.
Added in February 2015, for example, a new species of sea dragon, the ruby red Phyllopteryx dewysea, discovered off the coast of southern Australia, was distinguished after DNA analysis from two other sea dragon species.
Indonesian frogfish (Histiophryne psychedelica) was added to the database in 2009. (Image: WoRMS)
Other new fish species discovered since 2008 include a new species of barracuda (Sphyraena intermedia) found in the Mediterranean, an Indonesian frogfish (Histiophryne psychedelica) with 'psychedelic' colouring, a shark species (Chlamydoselachus Africana) found in African waters, and a new species of trout (Salmo kottelati) found in Turkey.