Eighty-eight percent of British people believe the Earth's climate is changing and that humans are the cause, while only 6% think it is not. Last year's severe winter flooding events appear to have increased the percentage of people who are now convinced the planet is warming.
Researchers from Cardiff University and the University of Nottingham set out to determine how Brits responded to last winter's floods. They surveyed a nationally-representative sample of 1,002 respondents across the country. The fieldwork was undertaken by Ipsos MORI.
They also surveyed a further group of 995 English and Welsh citizens from five areas who had been affected by the floods.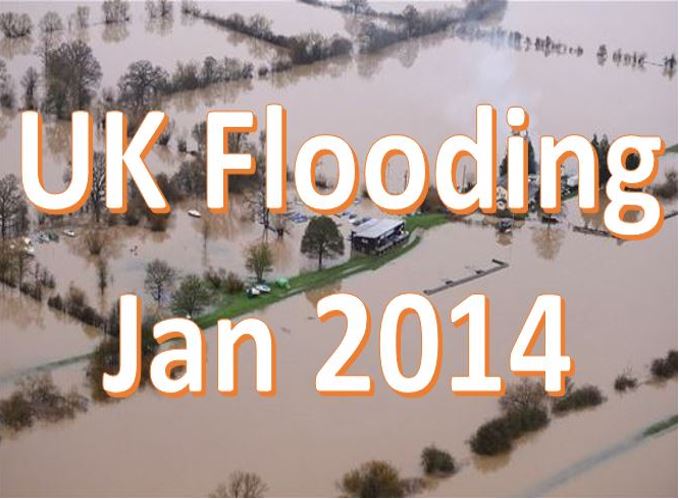 The severe floods that affected much of the country last winter appear to have convinced more people that global climate change is a reality.
Floods convinced more people
Their results, published a year after the major winter flooding, show that people's belief in the reality of climate change and that it is caused by human activity increased considerably and is now at its highest since 2005.
The researchers also found that a significant proportion of the population sees climate change as a contributory factor to the winter flooding events.
The UK was hit by an exceptional run of winter storms in December 2013 and January 2014, which led to widespread flooding.
Although it is extremely difficult to attribute any single set of weather events to global warming, such abnormally severe weather events are forecast to become more common and intense in the UK under a changed climate.
Seventy-six percent of respondents mentioned personally noticing signs of climate change during their lifetime, with 39% mentioning extreme weather or changing weather patterns, 27% mentioning floods, heavy rainfall or rising sea levels. Twenty percent said they noticed changes to the seasons.
Seventy-seven percent of respondents felt insufficient investment in flood defences contributed to the floods, 75% mentioned poor river and coastal management. Sixty-one percent mentioned climate change as a contributory factor.
When asked whether they agree with this statement – "The floods showed us what we can expect in the future from climate change." – 72% agreed while only 10% disagreed.
Flood victims more convinced about climate change reality
The researchers questioned a small group of 135 people whose properties had been directly affected by the flood waters. "This group was even more convinced of the reality and seriousness of climate change," they wrote.
Study-leader Professor Nick Pidgeon, from the School of Psychology at Cardiff University, said:
"Our findings demonstrate that an association between last year's winter flooding and climate change has been forming in the minds of many ordinary people in Britain, who also view these events as a sign of things to come."
"Perhaps we should now ask whether it is time to banish climate scepticism once and for all, and for scientists to be more decisive in demonstrating how our weather will become more extreme in the future if we do not act on climate change."
Seventy-four percent of respondents believe the UK should sign up to international agreements to limit carbon emissions, while only 7% opposed this measure.
Professor Pidgeon added:
"This finding above all sends a clear signal to the UK government as it begins to prepare for the pivotal international climate talks to be held in Paris later this year."