The national flag carrier of Ireland, Aer Lingus Group plc, has rebuffed the revised acquisition offer by International Consolidated Airlines Group, S.A. (IAG), the London-based Anglo-Spanish multinational airline holding company that owns British Airways, Iberia and Vueling.
IAG made the revised offer of €2.40 (₤1.88) per share at the end of December after the Dublin-based airline had rejected a previous bid worth €2.30 per share earlier in December.
The first rejection was because the offer undervalued the business, Aer Lingus had said.
Air Lingus shares closed on Friday at €2.50.
IAG wants to gain more take-off and landing slots at its home base, Heathrow airport. By purchasing Aer Lingus it would have acquired more slots.
Aer Lingus is the fourth busiest airline at Heathrow, after BA, Lufthansa and Virgin Atlantic.
However, Ryanair, which holds a 29.9% stake in Aer Lingus, would need to approve the acquisition. Ryanair has tried unsuccessfully to purchase Aer Lingus.
Ryanair has been told by British competition authorities to sell down its stake in Aer Lingus.
A deal would also require the approval of the Irish government, which holds 25% of Aer Lingus shares.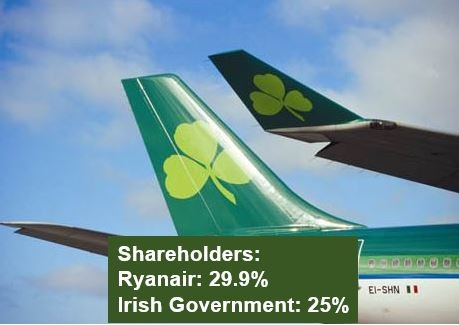 Ryanair is unlikely to be pleased at the prospect of IAG acquiring Aer Lingus.
IAG boss Willie Walsh is well known at Aer Lingus. He ran the Irish airline from 2001 to 2005 before taking the helm at BA.
Under CEO Christoph Mueller, Aer Lingus posted its best summer trading performance since the financial crisis, with operating profits 19% up at €112.9m in the quarter ending in September. During that quarter, it carried almost one-quarter more long-haul passengers compared to the same period in 2013. It also increased its revenue per seat.
Aer Lingus said it is set to launch a Dublin-to-Washington service in May 2015, as well as increasing the number of flights to its existing transatlantic routes.
The Irish Examiner quoted IAG, which said "IAG notes recent press speculation and confirms it submitted a revised proposal to make an offer for Aer Lingus on 29 December 2014, which has been rejected by the board of Aer Lingus."
In its latest trading update, issued on January 8th, 2015, Aer Lingus said its full year 2014 operating profit, before exceptional items, would be ahead of the €61.1 million posted in 2013. The airline said "The Group's trading performance in the fourth quarter of 2014 confirms this outlook."
---
Video – What is takeover?
A takeover is the acquisition of one company by another. It is different from a merger, which is more like a marriage (equals).
---