There has been a dramatic surge in artificial intelligence patent applications globally, says a new report. According to WIPO, which prepared the report, the greatest untapped opportunities exist outside of the software industry in healthcare, manufacturing, and agriculture. WIPO stands or the World Intellectual Property Organization.
According to WIPO, AI (artificial intelligence) is revolutionizing every aspect of how we live and work. To maximize its benefits, we must create a common understanding of artificial intelligence based on facts.
Analyzing data from patent applications
WIPO's first report in its 'Technology Trends' series offers evidence-based projections. It aims to inform policymakers on AI's future.
The authors gathered and analyzed data in patent applications to better understand the latest trends in the AI field. They also analyzed data in scientific publications.
Patent applications surging
Since the emergence of AI in the 1950s, there have been patent applications for nearly 340,000 AI-related inventions. Over the same period, there have been more than 1.6 million scientific publications.
Since 2013, the number of patent applications in the field of AI has risen significantly. More than half of all identified inventions have been published since 2013.
In the report's Executive Summary, the authors wrote:
"While scientific publications on AI date back decades, the boom in scientific publications on AI only started around 2001, approximately 12 years in advance of an upsurge in patent applications."
"Moreover, the ratio of scientific papers to inventions has decreased from 8:1 in 2010 to 3:1 in 2016 – indicative of a shift from theoretical research to the use of AI technologies in commercial products and services."
Japanese, US, and Chinese companies dominate patent applications
Of the top thirty AI patent applicants, twenty-six are companies and just four are universities or public research organizations.
This ratio applies across most artificial intelligence fields, techniques, and applications.
Of the twenty top companies filing AI-related patent applications, twelve are Japanese, three are American, and two are Chinese.
Regarding IBM and Microsoft, the leaders in AI patenting, the authors wrote:
"IBM has the largest portfolio of AI patent applications with 8,290 inventions, followed by Microsoft with 5,930."
"Both companies' portfolios span a range of AI techniques, applications and fields, indicating that these companies are not limiting their activity to a specific industry or field."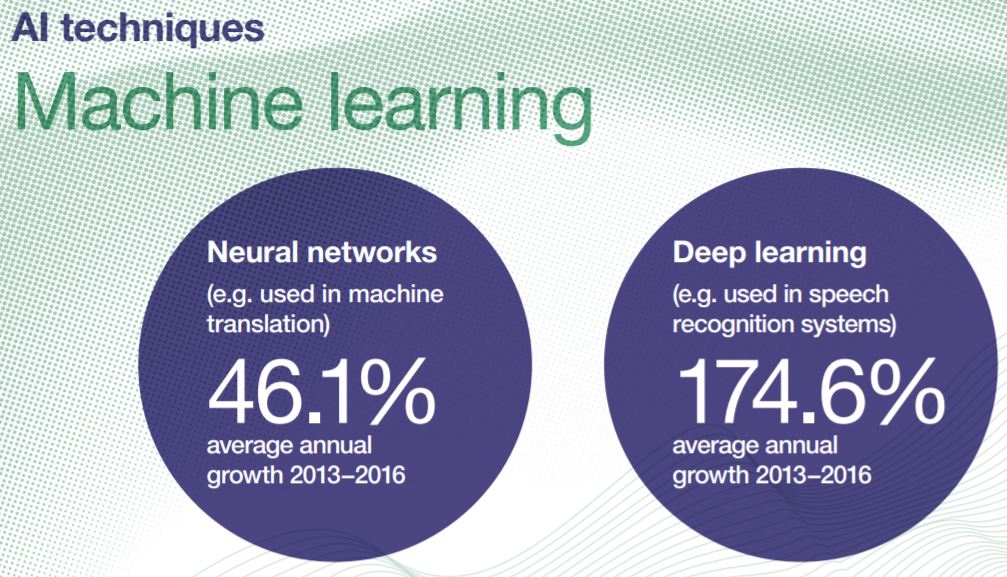 Universities focusing more on specific AI fields
Even though companies dominate, universities and public research organizations are leading in specific AI areas. They lead, for example, in some machine learning techniques, neuroscience, neurorobotics, and distributed AI.
Among the top twenty non-company patent applications, seventeen are from Chinese organizations. Ten Chinese academic organizations are among the top twenty AI-related scientific publications.
Chinese organizations are exceptionally strong in the emerging technique of deep learning. CAS has more than 2,500 patent families and over 20,000 scientific publications on AI. CAS stands for the Chinese Academy of Sciences.
Regarding CAS, the authors wrote:
"CAS has the largest deep learning portfolio (235 patent families). Chinese organizations are consolidating their lead, with patent filings having grown on average by more than 20 percent per year from 2013 to 2016, matching or beating the growth rates of organizations from most other countries."
South Korea's Electronics and Telecommunications Research Institute is among the top overall patent applicants. It stands out as second in patent applications among public research organizations and universities.
Most popular patent applications
Below are some highlights from the report regarding patent applications:
– Machine learning is the most popular AI technique. This includes deep learning.
– AI for robotics and control methods are the most popular applications.
– Among the industrial sectors, transportation is experiencing the fastest growth.
Artificial intelligence
Artificial intelligence is the field of software technologies that make machines think and behave like human beings. It contrasts with natural intelligence, which is what we have.
Many roboticists and software engineers insist that you can only call it AI if it performs at least as well as a human. 'Perform,' in this context, refers to human computational capacity, speed, and accuracy.
We can learn as we go along. For example, through trial and error, we get better at things. AI also has this capacity. We call it machine learning. In other words, AI is able to learn and improve without human input.
---
Video – Artificial Intelligence
---