Airbus stole the limelight and lots of orders at the Farnborough International Air Show 2016, leaving American rival Boeing struggling behind. Airbus' strong performance, as far as orders were concerned, allowed the Toulouse-based European aircraft manufacturer to make up lost ground during the first six months of this year.
Airbus says it has secured orders and commitments worth $35 billion – or 279 airplanes – at list prices, covering the single-aisle and widebody aircraft families. However, the two rivals had brought in more business at the Paris Air Show last year.
Airbus' deals consist of firm orders for 197 aircraft worth $26.3 billion, plus commitments for 82 airplanes worth $8.7 billion.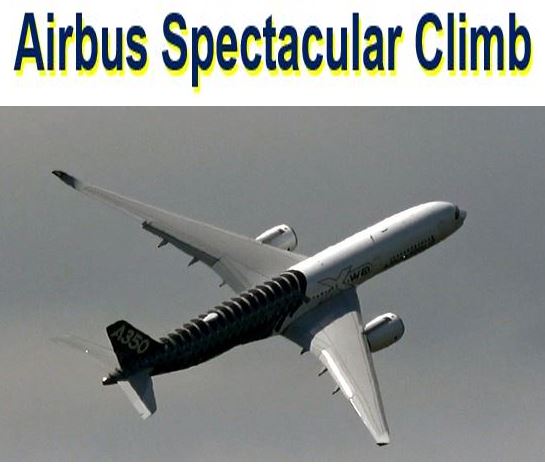 Airbus demonstrated its new A350's take-off abilities at the Farnborough Air Show earlier this week. The new model rose rapidly after take off, making almost near-vertical progress. Obviously, if passengers had been in the plane the take off would not have been so steep.
Sales and commitments of the A320 Family at Farnborough were strong, with business accounting for $31.3 billions' worth of sales or 269 aircraft.
According to Airbus:
"This total comprises 187 firm orders worth $22.6 billion, and commitments (eg. MoUs) for 82 aircraft worth 8.7 billion. Notably the larger A321neo model took a lion's share of the single-aisle announcements – with firm selections from three airlines for 140 aircraft, reflecting the trend for airlines to upsize to larger single-aisle aircraft."
---
---
Regarding widebody aircraft, Airbus won firm orders for 10 airplanes worth $3.4 billion – eight A-350-1000s and two A330-300s. The show also saw the launch order from DHL Express for the A330-300 Passenger-to-Freighter conversion programme in partnership with ST Aerospace and EFW.
A321neo middle of market champion?
Airbus' Chief Operating Officer – Customers, John Leahy, said:
"Our orders this week at Farnborough confirm a buoyant industry in which we have once again surpassed our competitor. In addition, airlines upsizing to the A321neo shows that this aircraft is the undisputed 'middle-of-the-market' champion."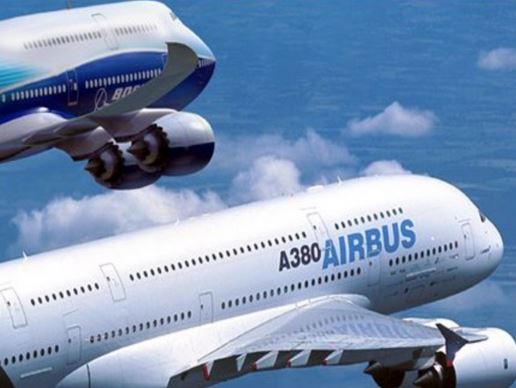 Airbus and Boeing are bitter rivals.
Boeing announced orders and commitments for 182 aircraft – however, those included forty-two that were already on its books and for which only the buyers' names were disclosed.
The two rivals said they were on track to hit their targets of matching orders with deliveries in 2016. Following the recent order boom, aircraft makers across the world are bracing for a significantly quieter period.
---
---
At last year's Air Show in Paris, Airbus ended with orders and commitments worth $57 billion – for 421 airplanes, compared to Boeing's 331 aircraft worth $50.2 billion.
Quite six months for Airbus
Just before this year's Farnborough Air Show began, Airbus was trailing its arch-rival after a relatively slow first six months. During the first half of this year, it had posted 227 aircraft orders, compared to Boeing's 309 (up to 28th June).
Enjoying the flypast that opened the Farnborough International Airshow 2016. #FIA16 pic.twitter.com/bHnEoRY2Nf

— Farnborough Airshow (@FIAFarnborough) 11 July 2016
Boeing celebrated its centennial during the Farnborough Air Show. Boeing Chariman, President and CEO Dennis Muilenburg said:
"As the birthplace of British aviation, there are few better backdrops to celebrate the accomplishments and wonders of the aerospace industry and mark our centennial than the Farnborough Airshow."
"Throughout the show, we demonstrated and discussed our innovative and cost effective products and services and the tremendous value they provide our commercial and defense customers."
@BoeingAirplanes well that certainly explains the dull white-only 747-8i parked at the @museumofflight

— Gordon Werner (@GordonWerner) 15 July 2016
"The British government announced significant orders for Boeing defense equipment. At the same time we committed to doubling Boeing presence in the UK in line with the government's Prosperity agenda and our global growth strategy for our second century."
"On the commercial side of the business, we were pleased at the confidence our customers displayed in our portfolio of airplanes and services with significant orders and other announcements."
VIDEO: A big THANK YOU to our magnificent #A380, #A350 and #A400M flight crew members at #FIA16 @FIAFarnboroughhttps://t.co/Mm9LbIlrlK

— Airbus Group LIVE (@AirbusGroupLIVE) July 15, 2016