Aldi and Lidl achieved a record market share of 12% (combined) in the UK, after growing at their fastest rate since January 2015, says Kantar Worldpanel, an international firm based in Spain that deals in consumer knowledge. A total of sixty-two percent of Britain's adult population shopped at Aldi or Lidl during the 12-week period ending in 21st May, 2017, compared to 58% during the same period in 2016.
A total of 1.1 million additional households visited either of the two discount supermarkets.
Figures published on 31st May – for grocery market share for the 12 weeks ending 21st May this year – showed that inflation continues creeping up – +2.9% during the past twelve weeks – which contributed to another period of strong growth in Britain's grocery market.
Year-on-year, overall sales expanded by 3.8%, the market's strongest performance since September 2013.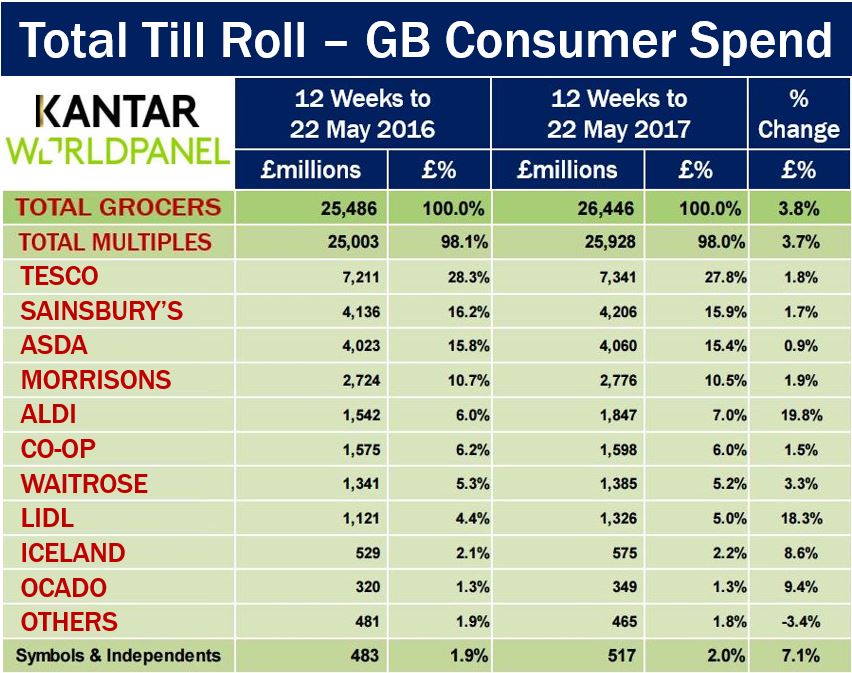 Over the past ten years, Aldi and Lidl have been slowly climbing up the British supermarket league table. How long will it be before Aldi knocks Morrisons out of the 'Big Four' club? (Image: adapted from kantarworldpanel.com – pdf download)
Aldi and Lidl – astonishing growth
The Big Four – Tesco, Asda, Sainsbury's, and Morrisons – have collectively expanded by 1.6%. Aldi and Lidl, however, saw sales grow by an astonishing 19.2% year-on-year.
As supermarket prices continue to rise, consumers are beginning to feel the pinch. When shoppers have to tighten their belts, sales in the discount supermarkets, such as Aldi and Lidl, do well. Over the past twelve weeks, the average household spent £27 extra on groceries.
---
---
Twenty-seven pounds may seem like a small and insignificant sum, but if prices continue rising at their current rate over the course of 2017, that would mean an additional £119 per household spent on groceries for the year.
All ten of the UK's major supermarket chains have reported increased sales, which analysts say were boosted by higher prices.
Boost in own labels sales
For all the major grocers, own labels have been a major source of growth, with sales an impressive 6% up compared to the same period last year. Sales of branded products, however, grew by a much more modest 0.6%, i.e. one-tenth of the own labels' growth rate.
Probably due to an excessive Easter when UK consumers spent £325 million of Easter eggs, a health drive helped push up sales of eggs by 5.1%, mineral water by 7.4%, and fresh produce by 2.1%.
---
Out Now! Latest #GroceryMarketShare 12 w/e 21 May 2017 show Top 4 results @Tesco 27.8% @Sainsburys 15.9% @Asda 15.4% @Morrisons 10.5%

— Kantar Worldpanel UK (@KWP_UK) May 31, 2017
---
As British shoppers filled their trolleys and baskets with healthier option, sugar sales during the 12-week period dropped by -5.6% compared to the same period in 2016.
Brief breakdown
– Tesco: saw sales rise by 1.8% compared to the same 12-week period last year, attracting over one-quarter of a million additional consumers.
Sales of fresh meat, which were aided by barbecue food promotions as the spring weather improved, grew by 4.3%, which was well ahead of the overall market's 0.9%.
---
---
– Asda: saw shopper numbers grow by 0.36 million. The Walmart subsidiary has taken advantage of own label's increasing popularity with British consumers. Its cheapest own labels saw sales grow by 20% year-on-year.
During the 12-week period, over 9.2 million households purchased Asda Value own label items, which was one million more compared to the same period in 2016.
– Sainsbury's: posted a 1.7% year-on-year increase in sales, driven by strong online performance, as well as impressive sales at its local convenience stores.
– Morrisons: again, the UK's fourth largest supermarket chain boasted the Big Four's best performance. Morrisons has now experienced six successive periods of growing sales.
Sales of The Best – its premium own label range – grew by more than one third compared to last year, as almost 800,000 extra consumers chose products from the line over the 12-week period.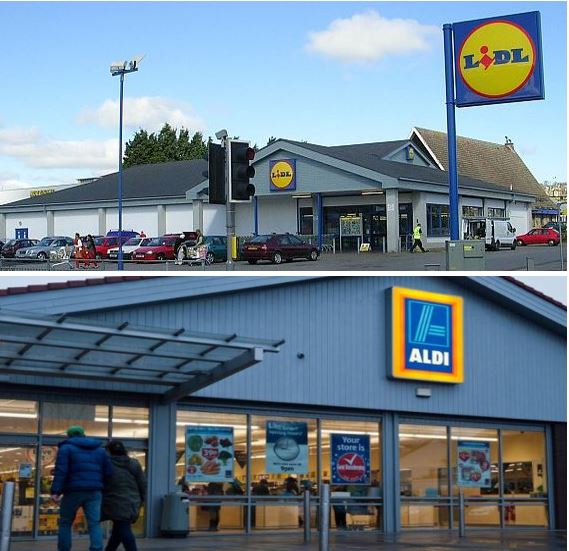 Aldi and Lidl are discount stores – their goods are cheaper than in the other UK supermarkets. Since the global financial crisis of 2007/8, British wages have failed to keep up with inflation. When consumers' purchasing power is squeezed, shopping in discount stores is the logical choice. (Image: Lidle – cardiffstudentmedia.co.uk. Aldi – uk.news.yahoo.com.)
– Co-op: saw growth of 1.5%, which was partly driven by strong own label sales. Its Irresistible range reported a sales rise of 33.7% year-on-year.
The Co-op reported its twenty-fifth successive period of overall sales growth. However, its market share declined by 0.2 of a percentage point.
– Waitrose: had some good and bad news. Sales increased by 3.3% year-on-year, but its share of the market declined marginally to 5.2%.
– Iceland: grew well ahead of the market with sales rising by 8.6% and 0.38 million additional shoppers during the 12-week period. Its market share rose by 0.1 of a percentage point to 2.2%.
– Ocado:, the online supermarket, which unlike its main competitors has no chain of stores, and delivers to people's homes from its warehouses, reported sales growth of 9.4%.
Ocado's share of the market remained the same at 1.3%. Since 2010, Ocado has been voted the best online supermarket in Britain, according to Which? magazine.
About Aldi and Lidl
– Lidl is a German multinational discount supermarket chain, based in Neckarsulm in Germany.
Lidl, formerly Schwarz Unternehmenstreuhand KG, has more than ten thousand retail stores across Europe. In 2017 it expanded into the United States.
The company belongs to Schwarz Gruppe, a holding company, which also owns the hypermarket Kaufland and store chains Hendelshof.
– Aldi (commonly written in capitals – ALDI) has more than 10,000 stores in eighteen countries. Based in Essen (Aldi Nord) and Mülheim (Aldi Süd), both in Germany, the chain was founded in 1946 by brothers Theo and Karl Albrecht when they took over their mother's shop in Essen, which has been operating since 1913.
Aldi's main rival in Germany is Lidl, and vice-versa.
Aldi – best place for booze!
In May 2017, Aldi was named the best place in the UK to buy beers, wines and spirits – it won the Drinks Retailer of the Year award.
Tony Baines, Joint Managing Director of Corporate Buying at Aldi, said:
"Brits know that they don't just have to rely on boutique wine stores for quality drinks nowadays. At Aldi, we make it easy for our customers to shop for quality, award-winning products that won't break the bank."
"We have a concise range of beers, wines and spirits on offer, meaning that our UK buying team work hard to ensure that each product, which is bought specifically for the UK market, is excellent quality and is sold at the best possible price, truly earning its place on our shelves."
"We've put a real focus on innovation this year; we've launched several new wine ranges and added a premium Gin to our core range. It is great to see that our offering is being praised so highly by industry bodies and consumers alike."
Video – UK Grocery Market Report
This Kantar Worldpanel report covers the grocery market in the United Kingdom for the 12-week period ending on 21st May, 2017.