Beko Plc has issued a press release warning that 3,450 tumble dryers that were manufactured in 2012 have a faulty component which raises their risk of failure, overheating, and fire.
Beko plc, a British subsidiary of Turkish multinational Arçelik A.S., says it is initiating a voluntary repair programme "as a precautionary measure". Carrying out the repairs on the tumble dryers should not take more than thirty minutes, the company said.
The 3,450 devices include 8kg, 9kg, and Bomberg Condenser tumble dryers – all of them manufactured in 2012 between the months of May and November.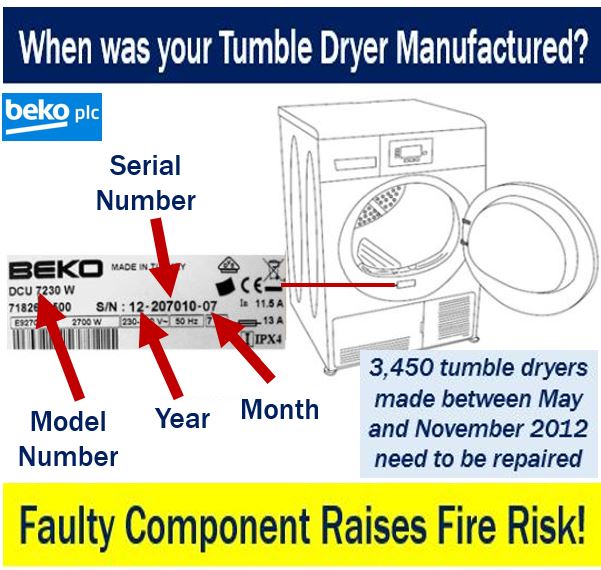 If your 8kg, 9kg, or Bomberg Condenser tumble dryer was manufactured between May and November 2012, you should contact Beko immediately. (Image source: Beko Plc)
"As part of our ongoing monitoring we have identified a batch issue with a third party supplied component which in rare circumstances could fail and overheat, which could lead to a risk of fire."
Owners of an 8kg, 9kg, or Blomberg Condenser Tumble Dryer, which was purchased between May 2012 and May 2013, should check the model and serial number of their device and check it against a list on a Beko web page.
---
---
Alternatively, customers can call Beko on 0800 917 2018, or 1800 25 29 25 in Eire, to talk to a member of its customer service team.
The affected models are:
DCU9330W, DCU9330R, DCU8230, DSC85W, TKF8439A
Beko Plc added:
"We would like to apologise for any inconvenience that this causes you and we want to reassure you that we are doing our very best to resolve this matter as quickly and efficiently as possible."
On its Frequently Asked Questions page, Beko responded as follows regarding whether the tumble dryers are safe to use:
If you own a potentially affected product, please stop using it immediately as a precaution.
The repairs will be carried out by qualified Beko engineers. Beko emphasized that the repairs (modification) will not affect the manufacturer's guarantee.
Can I get a refund or replacement?
The company responded as follows to a question regarding customers who want a replacement product or a full refund:
"Once the modification has been carried out, the product performance or the manufacturer's guarantee will not be affected, therefore a replacement or refund is not appropriate." It appears that the response is "No."