Alibaba has announced that it will list its shares in the New York Stock Exchange (NYSE), the largest Chinese firm to be listed in the US. Even though Nasdaq is usually chosen for technology shares, most bets were on an Alibaba NYSE IPO after Facebook's flotation was botched.
Alibaba handles over 80% of China's online retail transactions and accounts for 60+% of all parcel deliveries nationwide. It manages more volume than Amazon and Ebay combined.
It will be listed under the ticker "BABA", the firm announced in an updated IPO prospectus. Apart from reflecting the firm's name, it also means "eight eight" in Chinese. The number eight ("ba") is a lucky number in China, because it sounds like "fa" (prosperity). "Baba" also means "Daddy".
A prospectus is a document with information regarding a company that is issuing securities. It is read by prospective investors.
$20 billion IPO forecast
The company filed for IPO in May 2014, and is expected to sell a 12% stake, raising up to $20 billion, experts have predicted.
Nasdaq and NYSE have been fiercely competing to be the venues of technology company IPOs. In 2013, NYSE scored an important win by listing Twitter, but Nasdaq has done well with Chinese Internet firms, including Baidu, a search engine, and J.D.com, one of the largest business-to-consumer (B2C) online retailers in China.
Although Nasdaq has hosted a higher percentage (57%) of the 142 technology IPOs so far this year, NYSE has captured 61% of all the money raised.
In a telephone interview with Bloomberg, Frank Ingarra, head trader at NorthCoast Asset Management LLC, said "Alibaba is probably going to be a big offering, so they want somebody that they think can control it better and avoid the headache Facebook had."
A NYSE spokesman said it participated in a comprehensive and deliberate selection process "and we are pleased to welcome Alibaba Group to the New York Stock Exchange."
On behalf of Nasdaq, a spokesman described Alibaba as a "terrific company" and wished them well as they purse their IPO.
Stock exchanges like big listings, not for the fees associated with the IPO, but because they increase trading revenues over time.
August launch expected
The New York Times quotes people briefed on the matter who did not want their identities revealed that Alibaba shares could start trading as early as August. Perhaps it will be listed on the "lucky" 8th of the month.
Alibaba's flotation is expected to be the largest tech IPO ever held in the United States, dwarfing Facebook's $15 billion initial share sale two years ago. The company has an estimated valuation of at least $200 billion.
Alibaba will stand out in NYSE's Big Board as the third biggest tech firm listed, behind International Business Machines Corp. and Oracle. Corp.
Hong Kong lost out to the US
One would think that Hong Kong's HKEx would be the likely venue for Alibaba's IPO rather than NYSE or Nasdaq. In fact, Alibaba.com had been offered initially in Hong Kong in 2007. However, five years later it was delisted because it did not exceed the initial offering price.
More recently, Hong Kong seemed the preferred choice again, but talks got stuck when the Hong Kong exchange refused to allow Alibaba's founders to retain voting rights. With voting rights you can choose the members of the board of directors.
Hong Kong's HKEx as well as the region's securities regulator have a "one share, one vote" rule, i.e. majority stakeholders and minority shareholders have the same voting rights. Nasdaq and NYSE do not have this requirement, hence Alibaba switched from Hong Kong to the US.
Alibaba is not a well known company among US consumers. However, its business model, which has been described as a blend of Google, Amazon.com and eBay, will excite investors.
Yahoo has a 22.6% stake in Alibaba. It should make a sizable post-IPO profit. Yahoo shares rose 1.2% on Thursday afternoon.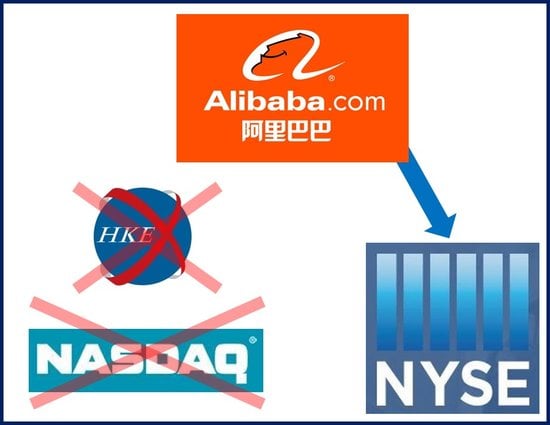 A major victory for NYSE, a blow for Nasdaq, and a serious loss for Hong Kong's HKEx.
Responding to lack of transparency complaints
Ealier this month, Alibaba published updated earnings and revenue data, as well as details on the structure of its leadership, after pressure from investors.
The company's fiscal Q4 revenue grew by 39% to $1.9 billion, and earnings increased 31% to $884 million. Profit margins, however, declined steeply to 45.3% from 51.3%, which Alibaba said was due to spending heavily on marketing trying to persuade mobile users to make purchases online.
Compared to recent quarters, growth appears to have slowed down significantly.
Yahoo, which plans to reduce its shareholding from 22.6% to 9%, will be concerned about the sharp fall in profit margins. If they continue to slide it may make less money from the sell-off ($15 billion) than it was expecting. Thanks to its Alibaba investment, Yahoo shares have risen by 41% over the last 12 months. Softbank, which has a 34.3% stake in Alibaba, has seen its shares rise by 45% over the last year.
Video – Alibaba chooses NYSE for its IPO