A possible Alstom takeover by either America's General Electric or Germany's Siemens was confirmed on Sunday by Arnaud Montebourg, France's Economy Minister. He emphasized that the French government will not allow any hasty moves by any of the three parties.
Montebourg said he learned of General Electrics' interest in acquiring Alstom on Thursday, and Siemen's proposal on Sunday.
GE offers cash, Siemens offers a swap plus cash
On Thursday General Electric said it was willing to pay $13 billion for a straight Alstom takeover, sending Alstom shares up by 11%. Sources have told Reuters, however, that GE is only interested in its power generating and grid equipment businesses.
Siemens says it would like to talk to Alstom about "strategic opportunities", triggering rumors that it is interested in acquiring the French company. It said it had contacted Alstom's Board to "signal its willingness to discuss future strategic opportunities."
According to Le Figaro, a French newspaper, Siemens is interested in offering Alstom half of its train-making division plus some cash in exchange for Alstom's energy division.
France's national interest matters most, says government
The French government will review both companies' proposals, Montebourg added. He stressed that he will not accept any hasty decision, whatever that decision may be, without checking first that it is in the national interest and examining potential alternatives.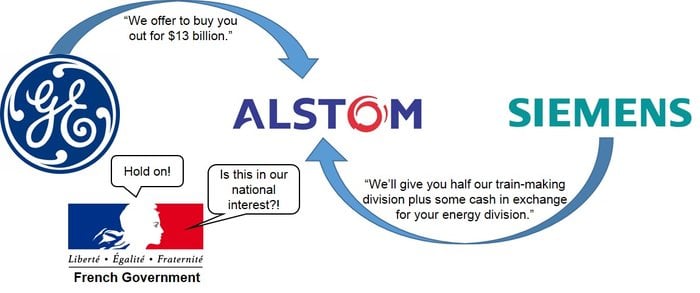 The French government wants to make sure an Alstom takover is in the national interest.
A meeting between Montebourg and Jeff Immelt, GE's CEO, for Sunday has been postponed for a few days, a French government spokeswoman has said.
About Alstom
Alstom S.A., with headquarters in Levallois-Perret, west of Paris, France, is a large multinational conglomerate involved in power generation and transport. In 2011 it registered sales of over €20.9 billion ($28.92 billion). It employes more than 85,000 workers in 70 countries.
The company is active in the fields of:
Transport – including the Eurostar, TGV and AGV trains, as well as the Citadis trams.
It is also present in the urban transport market, signaling infrastructure equipment and some other related services.
When Alstom was floated in 1998 it was listed in the Paris, New York and London stock exchanges. However, after its financial reconstruction in 2003 with the French government, it has not been listed in the London Stock Exchange, and neither in the New York Stock Exchange since August 2004.
---
Video – What is takeover?
When one business buys another, we call it a takeover. When two similarly-sized companies get together and become one, we call it a merger.
---