An Amazon HBO video streaming deal has been announced by the two companies. Amazon Premium customers will be able to watch HBO licensed content online. Investors viewed this move as bad news for Netflix, which does not provide HBO shows; Netflix shares dropped 4.9% on the news.
The Amazon HBO video streaming move could encourage subscribers to move away from the competitor provider Netflix, analysts say. Earlier this week Netflix posted strong sales and profit figures.
The Wall Street Journal quoted Stephen Shin, a Morgan Stanley analyst, who said "We believe that Netflix has enjoyed an advantage in content selection. Today's news is a clear sign that Amazon is intent on closing the content gap with Netflix, which validates Netflix's recent decision to raise prices to fund more content acquisition."
A first for HBO
According to HBO, which is owned by Time Warner Inc., this is the first time the premium cable channel has licensed its content to an online subscription streaming service.
Amazon Prime viewers, as well as subscribers to Amazon's Fire TV, will be able to watch HBO content as from May 21st.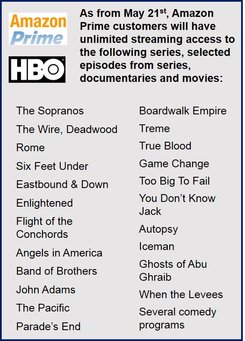 Not included in the deal are shows that have come out within the last 36 months, such as "Game of Thrones". Amazon Premium customers will not be able to watch "Curb Your Enthusiasm", "Entourage", and "Sex and the City", because of existing cable syndication deals.
Amazon and Netflix, fierce rivals
Amazon and Netflix have been expanding their range of content in response to growing demand for online video. Amazon, like Netflix, has its own original content, including the comedy "Alpha House", starring John Goodman. Netflix' best known original program is "House of Cards", starring Kevin Spacey.
Neither Amazon nor HBO has revealed how much money is changing hands in this deal. Amazon paid out over $200 million in 2013 to Viacom Inc. for the licensing rights of Nickelodeon and other kids' channels.
This is a completely new move for HBO, which historically has signed licensing arrangements with traditional cable channels such as A&E, E!, and TV Guide Network.
Brad Beale, Director of Content Acquisition for Amazon, said of the deal:
"HBO has produced some of the most groundbreaking, beloved and award-winning shows in television history, with more than 115 Emmys amongst the assortment of shows coming to Prime members next month. HBO original content is some of the most-popular across Amazon Instant Video – our customers love watching these shows. Now Prime members can enjoy a collection of great HBO shows on an unlimited basis, at no additional cost to their Prime membership."
Charles Schreger, President of Programming Sales for HBO, said:
"Amazon has built a wonderful service – we are excited to have our programming made available to their vast customer base and believe the exposure will create new HBO subscribers."
Earlier in the spring, Amazon Prime raised its price to $99 per year from $79. Now that customers have access to so many HBO titles, they may view the price hike in a different light.
By the end of the year the two companies say that HBO GO will be coming to Amazon's streaming media player, Amazon Fire.
Amazon.com is based in Seattle and employs more than 117,000 people globally.
Video – Amazon HBO video streaming deal
Written by [google_authorship]