March new home sales plunged 14.5% in the United States compared to February, according to figures published by the US Census Bureau and the Department of Housing and Urban Development.
March new home sales were at a seasonally adjusted (annual) rate of 384,000, i.e. 13.3% lower than in March 2013's estimate of 443,000.
February sales were held down by abnormally harsh winter weather conditions, which may have also dampened business in March, analysts say.
March new home sales in comparison to February:
Fell 21.5% in the Midwest.
Dropped 16.7% in the West.
Declined 14.4% in the South.
Increased 12.5% in the Northeast.
As sale prices and mortgage rates have risen over the last 12 months, affordability has become a growing problem for house buyers. According to the Census Bureau, the median price of new homes on sale in March was $290,000, i.e. $32,000 (13%) higher than in March 2013.
The market for new homes should have picked up by now, experts say.
March existing-home sales in third successive fall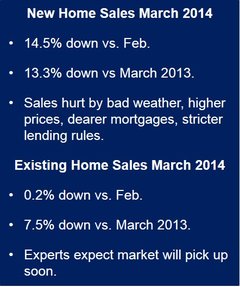 Existing-home sales were "flat" in March, according to the National Association of Realtors. While sales gains were reported in the Midwest and Northeast, they were offset by falls in the South and West.
Overall, existing-house sales dropped 0.2% in March to an annual rate of 4.59 million, from 4.6 million in February, and 7.5% below 4.96 million in March 2013. March existing-home sales were the lowest since July 2012. February existing-home sales had already hit a 19-month low.
According to Lawrence Yun, National Association of Realtor's chief economist:
"There really should be stronger levels of home sales given our population growth. In contrast, price growth is rising faster than historical norms because of inventory shortages."
Yun adds, however, that with employment growth and some weather-delayed shopping activity, home sales should accelerate, especially if inventories carry on improving and mortgage interest rates rise only slightly.
Three factors have hurt the housing market:
More expensive mortgages.
Stricter lending rules for buyers.
The industry is still trying to recover from its worst crash since the Great Depression.
Bloomberg Businessweek quoted Ryan Sweet, a senior economist at Moody's Analytics Inc. in West Chester, Pennsylvania, who said "It's the reduction in affordability, the lack of inventory, also weak growth in median household income – all these are contributing to the sluggish recovery in housing. It's going to raise concerns about the strength of the housing recovery, but it's too early to be too worried." Sweet had forecast a March new homes sales slump.
Home builder pessimism increased considerably in February; the National Association of Home Builders/Wells Fargo reported that month that confidence had plunged ten points.
Video – Poor March new home sales
Written by [google_authorship]