A Valeant Allergan takeover bid is the largest step so far in the Canadian company's quest to be among the five largest pharmaceutical companies worldwide by 2016. In a cash-and-stock bid, valued at $45.7 billion, Allergan stockholders would receive $48.30 in cash and 0.83 of a Valeant share for each Allergan share they own.
The unsolicited bid is supported by Allergan's largest shareholder, Pershing Square Capital Management LP, according to Valeant.
Mike Pearson, Valeant's CEO since 2008, has so far spent more than $19 billion acquiring at least three dozen companies as part of Valeant's ambitious plan to be among the industry's mega-giants.
If Pearson manages to takeover Allergan, it will dwarf last year's $8.7 billion acquisition of Bausch & Lomb Inc., the Rochester-based eyecare company.
In an official statement, Pearson said:
"This proposal represents an undeniable opportunity to create extraordinary value for both Allergan and Valeant shareholders by establishing an unrivaled platform with leading positions in ophthalmology, dermatology, aesthetics, dental and the emerging markets. Together, we can capitalize on the inherent strengths and complementary portfolios of our two companies, while achieving significant synergies by applying Valeant's unique operating model to a combined set of assets."
"While the Allergan CEO and Board of Directors made it clear, both privately and publicly, that they were unwilling to enter discussions with us about creating a value-enhancing combination, we are hopeful that our proposal for this extremely compelling combination will enable us to engage in productive discussions."
About Allergan
Allergan Inc., based in Irvine, California, is a global pharmaceutical company that employs 10,800 workers. The firm focuses on dermatology, ophthalmic pharmaceuticals, urology, neuroscience and cosmetics.
Allergan produces Botox, a neurologic product used to treat debilitating disorders linked to muscle overactivity. It owns the trade names Botox Cosmetic and Vistabel, used in the treatment of facial lines (wrinkles).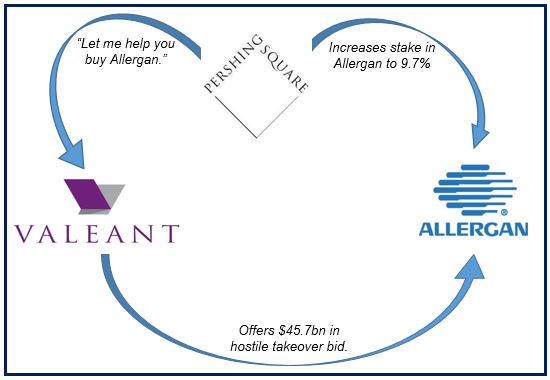 It will be difficult for Allergan to turn down a bid from Valeant.
Allergan and Valeant an ideal match, says Ackman
Bill Ackman, chairman and founder of Pershing Square Capital Management, said at an investor's meeting on Wednesday that very few healthcare companies have the durability of the combined product portfolio of Allergan and Valeant.
According to a filing on Tuesday with the US Securities and Exchange Commission, Pershing Square Capital Management accumulated 9.7% ownership of Allergan after agreeing with Valeant to make a hostile bid for the Botox maker (Allergan) together.
In a press release published last night, Allergan wrote:
"The Allergan Board of Directors, in consultation with its financial and legal advisors, will carefully review and consider the Proposal and pursue the course of action that it believes is in the best interests of the Company's stockholders. The Company's stockholders do not need to take any action at this time. Goldman, Sachs & Co. and BofA Merrill Lynch are serving as financial advisors to the Company and Latham & Watkins is serving as legal counsel to the Company."
Allergan stock increased 15% to $163.64 in New York, a sign that investors expect the bidders to come back with a higher offer. Valeant's share price rose 7.4%.
According to Valeant's third-biggest stockholder, Jeff Ubben, CEO of ValueAct Holdings LP, the Valeant-Allergan deal was structured by Ackman, who then put forward the idea to Valeant. With Ackman's support, the bid has a much better chance of a favorable vote, he added.
Valeant growing
Valeant has been moving from its generic drugs core business into specialty medications, plus other therapeutic areas where it has a minor presence, such as dentistry, dermatology and ophthalmology.
Valeant is valued at about $42 billion. If it manages to acquire Allergan its worth will double. In order to be in there with the top five or ten multinational drugmakers its worth would need to double again.
In an interview with Bloomberg, Timothy Chiang, A CRT Capiral Group analyst, working from Stamford in Connecticut, said " (a Valeant-Allergan combination) would make a lot of sense. The question has always been, it's not whether Valeant would be interested in buying Allergan, it's a question of would Allergan sell to Valeant."
Ackman warns Allergan about a "No" vote
At an investor presentation in Manhattan on Tuesday, Ackman warned Allergan that part of what he does is compel firms "to do the right thing for shareholders. And we have all kinds of ways of making that happen. We will do that here, we are committed to doing that here and we have an enormous financial and reputational (investment to make sure it happens)."
Ackman added that if the takeover bid were to fall through, Allergan's share value would probably nosedive and it would be facing a string of investor lawsuits. "It's not where we want to be, it's not where they want to be," he emphasized.
Allergan has kept its cards close to its chest, i.e. it has said virtually nothing publicly about how it may respond to the offer. However, most analysts agree with Ackman's prediction regarding Allergan's share price if the deal fell through, unless another bidder were to enter the scene.
Allergan adopts 'poison-pill defense'
On Tuesday evening Allergan said it was adopting a shareholder rights plan that would provide its existing holders with greater voting power on the event of an investor acquiring more than 10% of its stock.
Allergan stressed that the defense mechanism was not adopted to prevent an acquisition of the company. "Rather, the plan aims to provide the board with adequate time to fully assess any proposal."
Update – June 11, 2014: Allergan emphatically rejects Valeant's sweetened $53 billion offer. Pershing Square Capital Management CEO and founder, William Ackman, says he plans to take the offer directly to shareholders and replace Allergan's board of directors.
---
Video – What is takeover?
When one company buys another company, we call it a takeover. When two equally-sized firms get together and become one, we refer to it as a merger.
---