Android captured 85 percent of the global Smartphone market in the second quarter of 2014, says a new report published by Strategy Analytics, mainly at the expense of Microsoft Windows Phone, Apple iOS and Blackberry.
Worldwide shipments of smartphones increased by 26.7% in Q2 2014 to 295 million units, compared to 233 million in the same quarter last year.
Growth has halved, says the report, from 48.9% annually a year ago to 26.7% today. In fact, worldwide growth in Q2 was at its lowest level since 2009.
While Europe and North American are 'maturing', the smartphone markets in Asia and Africa are booming.
With 85% of all smartphones sold running Google's OS, it now has such a massive lead that there are no longer any real rivals:
Blackberry's global smartphone market share fell to 0.6% from 2.4% last year, "due to a weak line-up of BB10 devices."
Apple iOS' share declined to 11.9% from 13.4%, because of its poor performance at the cheaper end of the smartphone market.
Microsoft Windows Phone's market share slid to 2.7% in the second quarter from 3.8% in Q2 2013. It continues to struggle in China and the United States.
(Data Source: Strategy Analytics)
A one-horse race
Strategy Analytics wrote in its blog:
"Like the PC market, Android is on the verge of turning smartphone platforms into a one-horse race. Its low-cost services and user-friendly software remain wildly attractive to hardware makers, operators and consumers worldwide."
"Rival OS vendors are going to have to do something revolutionary to overturn Android's huge lead in smartphone shipments. Apple's push into the big-screen phablet market and Firefox's expansion into the ultra-low-cost smartphone market later this year are the only major threats to Android's continued growth at this stage."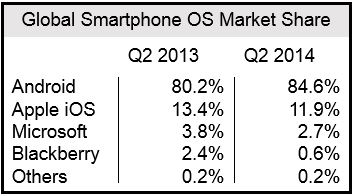 (Data source: Strategy Analytics)
Microsoft sues Samsung over Android OS patent payments
On Friday Microsoft filed legal action against Samsung in US District Court, Southern District of New York. Microsoft says it simply wants to enforce its contract with the Korean smartphone maker.
Microsoft says Samsung failed to honor its agreement to pay royalties for using the Android OS for its smartphones after Microsoft announced it planned to buy Nokia last year.
Companies that use the Google Android OS typically have to pay Microsoft royalties.
In a Microsoft blog, David Howard, Corporate Vice President & Deputy General Counsel, wrote:
"After becoming the leading player in the worldwide smartphone market, Samsung decided late last year to stop complying with its agreement with Microsoft. In September 2013, after Microsoft announced it was acquiring the Nokia Devices and Services business, Samsung began using the acquisition as an excuse to breach its contract."
"Curiously, Samsung did not ask the court to decide whether the Nokia acquisition invalidated its contract with Microsoft, likely because it knew its position was meritless."