April restaurant job growth continued strong in the US as a net 32,600 new positions were created on a seasonally adjusted basis, said the National Restaurant Association (NRA).
For the fiftieth successive month, April saw a gain in restaurant jobs, and the third month running of an increase of more than 30,000.
The growth in employment in eating and drinking places in the United States was 3.2% in April compared to April 2013, nearly twice the rate compared to the 1.7% gain in total employment during the same period.
After gaining by 3.5% in 2012 and 3.7% in 2013, this year the industry in on track for its third consecutive year of jobs growth exceeding three per cent. The last time this occurred was 1993-1995 when restaurant jobs increased by over 11% during the 36-month period.
In a separate study, the NRA reported that restaurant industry employment growth for 2014 is expected to exceed overall employment for the 15th consecutive year.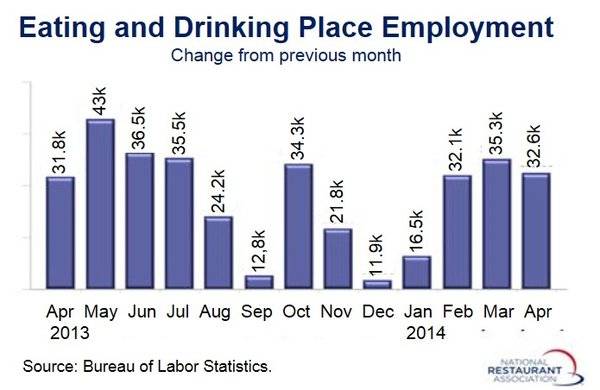 April was the 3rd successive month of 30,000+ jobs growth.
Restaurant sales rebounded in March
Restaurant sales bounced back in March after a January/February soft patch due to abnormally harsh winter conditions. Eating and drinking places sales increased by 1.1% to $47.3 billion compared to February.
March sales equaled the figure registered in November 2013.
US restaurateurs remain relatively optimistic about their business environment over the next few months. According to a survey carried out by the NRA, forty percent of respondents said they predicted higher sales during the first six months of this year compared to the same period in 2013, 11% expect a decline and 49% no change.
However, restaurant owners are less bullish about the US economy overall. Twenty-nine percent see conditions improving over the next six months, compared to 55% who see no overall change and 16% who expect things to get worse.