Prime Minister Pedro Passos Coelho said on national TV that Portugal needs no more bailouts as his country plans to exit its €78 billion bailout in two weeks' time. He reiterated that Portugal will not require a precautionary standby line of credit. Standby credit is offered to nations in trouble to help them restore a stable and sustainable macroeconomic position.
After the bailout period ends on May 17th, 2014, Portugal will no longer have to answer to overseas creditors.
Portugal had been granted a loan of €78 billion ($108 billion) by the International Monetary Fund (IMF), the European Central Bank (ECB) and the European Union (EU) in May 2011.
Tough austerity measures were imposed, which the country adhered to despite fierce opposition from within the country.
Portugal needs no more bailouts "The right decision"
Flanked by his entire government, Coelho said:
"The government has decided to exit the assistance program without turning to any kind of precautionary program. This is the right decision."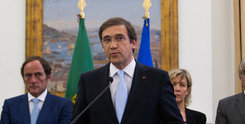 He made the announcement after spending most of the day in a cabinet meeting.
So far, two countries – Ireland and Portugal – have managed to exit an assistance program that began during the Great Recession.
Vice-President of the European Commission, said in a statement:
"The European Commission takes note of this decision and, as previously stated, will support the Portuguese authorities and people in this sovereign choice."
EU, IMF and ECB praise Portugal
After staff teams from the ECB, the IMF and the EU visited Lisbon from April 22nd to May 2nd, the European Commission announced that Portugal's economic recovery is broadening, exports are driving economic growth, while private investment and consumption have also started to accelerate. "Unemployment is expected to decline further, in line with the moderate economic recovery expected in 2014 and 2015."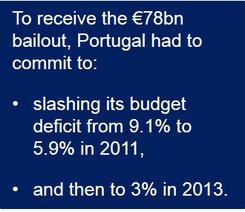 According to Eurostat, the statistical office of the European Union, Portugal's unemployment rate fell from 17.4% in April 2013 to 15.2% in April 2014.
The European Commission added that deficit targets of 4% this year and 2.5% in 2015 had been reaffirmed, while Portugal's deficit target in 2014 "was reached by a comfortable margin and budget performance in the first months of this year was better than expected."
Portugal exiting worst recession in 40 years
The Portuguese economy is recovering from its worst recession since the 1970s. There were positive signs of investor confidence in April when yields on its 10-year government debt dropped to 3.58% at a bond auction; an eight-year low. The €750 million bond auction was three times over-subscribed.
Portugal's center-right administration met the imposed targets after sticking to the bailout plan to reduce the country's budget deficit. Although this cost Coelho's party some support, this has stabilized since the economy started rebounding in the middle of 2013.
However, the country's supreme court has challenged some of the austerity measures the IMF and EU had demanded as conditions for the 2011 bailout.
Christine Lagarde, Managing Director of the IMF said:
"The Portuguese authorities have established a strong track record of policy implementation to address the country's long-standing structural problems. This bodes well as Portugal exits its EU/IMF-supported program."
Reuters quoted Felipe Silva, head of debt at Banco Carregosa, who said "The fact that Portugal doesn't need a precautionary program is another vote of confidence by European partners. Investors accept Portugal's risk and that is very positive."