German April manufacturing grew, according to the Markit/BME Germany Manufacturing Purchasing Managers' Index which increased to 54.1 compared to 53.7 in March. Any reading over 50 indicates that the manufacturing sector is growing.
German April manufacturing grew at its fastest rate since May 2011, and is the tenth consecutive month of expansion, the survey from Markit Economics showed.
Intermediate goods drove output growth
Increased order intakes and better economic conditions boosted the production of intermediate goods which drove April output growth.
However, German new order growth fell to a five-month low in April, although the increase was more solid and with fuller order books.
New exports work rose at its slowest rate since October 2013.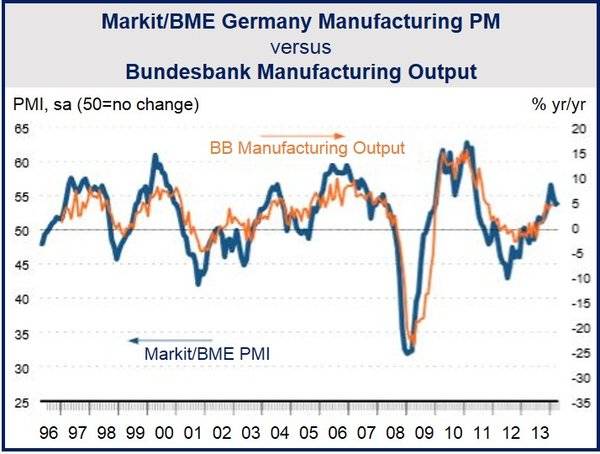 (Source: Markit/BME)
Markit economist Oliver Kolodseike said:
"Final PMI data signaled a slight acceleration in Germany's manufacturing upturn in April, with production growth the second-sharpest in nearly three years. Despite robust output growth, companies were relatively cautious with regards to hiring efforts and buying activity."
"Employment continued to rise at a very moderate pace, while firms raised their purchasing activity to the weakest extent in six months, in part reflecting a slower expansion in new orders."
"The following months will show whether April's weak export reading was only a temporary blip or if the appreciation of the euro is having a noticeable effect on client demand from export markets."
April factory hiring up
German factories took on more workers in April, mainly because of greater production requirements and predicted growth in the months to come. Increasing backlogs led to a build-up of capacity.
Higher production requirements pushed up purchasing activity in April, but it was the slowest growth in six months. Some companies have reduced their buying in a bid to reduce inventories.
Input prices fell the most in nine months, which according to companies are the result of successful price negotiations, greater competition among suppliers and cheaper raw materials.
Output costs remained pretty much the same in April after falling slightly in March.
Suppliers' delivery times deteriorated for the ninth consecutive month in April as companies reported rising workloads.
Unemployment in Germany currently stands at 5.1%.