For Article 50 to be invoked, Prime Minister Theresa May does not need the approval from MPs (Members of Parliament), a team of layers has informed. Article 50, when invoked, begins the process of severing ties with the European Union.
Article 50 is a basic five-point plan should any European Union (EU) member state wish to leave the bloc. The moment that state invokes Article 50, negotiations concerning negotiations start.
Experts say Brexit negotiations could take from between two years to up to a decade. According to Theresa May's election adviser, Lynton Crosby, CEO of CT Group, the Leave campaigns pivot to focus on immigration was critical to its success.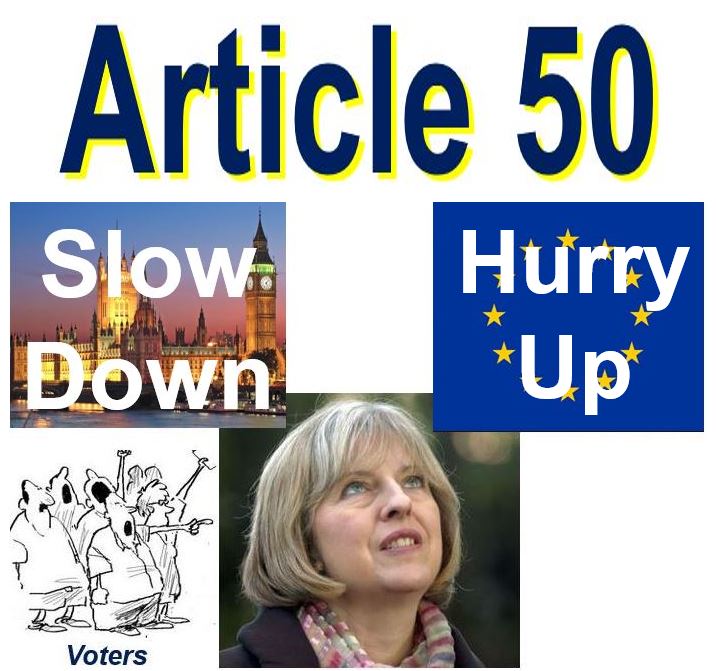 Prime Minister Theresa May is under intense pressure from all directions. While many in her party, the majority of British voters, EU member states, and UKIP urge her to invoke Article 50 immediately, most MPs and Lords want her to slow things down and hold a second referendum.
There have been many rumours in the press and other media that the Prime Minister will face legal challenges regarding the 23rd June referendum vote, in which the British electorate voted for Brexit – to leave the EU.
However, according to an article published by the Daily Telegraph today, government lawyers have told Mrs. May that she does not need approval from Parliament to start the Article 50 procedure.
---
---
'Britons' wishes will be respected'
The Prime Minister has repeatedly said that Britons' wishes – Brexit – will be respected. In July, the Prime Minister said: "I am committed to delivering on the verdict the public gave."
Mrs. May's position contrasts with Labour leadership hopeful Owen Smith, who said he was devastated by the referendum decision and promised to try to block the triggering of formal separation negotiations with the EU by holding a second referendum or calling a general election to approve the eventual Brexit deal.
It is not only the UK that has no Brexit strategy – the EU has the same problem. (Image: twitter.com.business)
Mr. Smith said that if he became leader of the Labour Party, he would oppose invoking Article 50 until the Tories committed to a second referendum.
Earlier this week, Mr. Smith said:
"Under my leadership, Labour won't give the Tories a blank cheque. We will vote in Parliament to block any attempt to invoke Article 50 until Theresa May commits to a second referendum or a general election on whatever the EU exit deal emerges at the end of the process. I hope Jeremy will support me in such a move."
---
---
Mrs. May is lucky that the Labour Party is in such a mess and has a leader with dubious Remain credentials.
Article 50 legal challenge
In October, the High Court will hear a legal challenge bid to prevent the Government from triggering Article 50 without Parliament's prior authorization.
According to Government lawyers, Mrs. May can use the royal prerogative to begin the separation process of exiting the EU.
Sources say Mrs. May will not offer Brexit opponents the opportunity to stall the UK's withdrawal from the EU.
A Downing Street source quoted by the Daily Telegraph said:
"The Prime Minister has been absolutely clear that the British public have voted and now she will get on with delivering Brexit."
Tony Blair, Owen Smith and other pro-Remain MPs are alleged to have been planning to use a Parliamentary vote to stop Brexit. If Mrs. May plans to go ahead without Parliamentary approval, her decision will come as a devastating blow to Remain campaigners.
---
Clear affirmation that #Brexit will happen under her PMship from @TheresaMay2016 in @TheSun https://t.co/bx0BW62x4X pic.twitter.com/lTQM0d0Vyd

— Tim Montgomerie ن (@montie) 10 July 2016
---
Parliament is pro-Remain
About 480 MPs in the House of Commons, out of a total of 650, campaigned for the UK to remain in the European Union during the last general election campaign.
Most of the House of Lords is also pro-Remain, which means that getting formal parliamentary approval for Brexit might be impossible.
Former Prime Minister Tony Blair said earlier this year that the Government should consider holding a second referendum.
Tony Blair said:
"If, as we start to see the details emerge of what this new world we are going into looks like, what are the practical effects, then parliament has got a role. The country should carry on being engaged in this debate, it should carry on expressing its view."
Pressure to invoke Article 50
Mrs. May is under intense and increasing pressure both at home and across the Channel to invoke Article 50.
In July and August, virtually all data reported by the Office for National Statistics show considerably better than expected economic performance – the British economy post-Brexit vote is in much better shape than the Remain campaigners had forecast (if we voted to leave the EU). A growing number of Brits are wondering how much of the Remain's campaign was simply scaremongering.
Nigel Farage, UKIP's former leader, warned that if Mrs. May starts dragging her feet on her referendum commitments she will come under massive pressure from his party and 51% of the referendum's voters.
Leaders of EU-member states do not want years of uncertainty regarding the trading bloc's future damaging investment opportunities and chances for economic growth – they urge the Prime Minister to invoke Article 50 immediately.
Do we have a Brexit negotiating team?
If the Prime Minister is aiming for the first quarter of 2017 to trigger Article 50, one wonders whether there will be the time to gather enough experts to form a competent Brexit negotiating team.
Negotiations will be tough, extremely complex and lengthy.
Britain's Civil Service has an excellent reputation among civil servants globally for being able to turn itself round rapidly, prepare new ministers and get things up and running. If any public body can do this, it is them.
We do not only need experts for our team, we also require buildings, email addresses, offices, etc. Mrs. May says our Brexit negotiators will be ready for business by the end of this year.
Video – What is Article 50?
The only way for an EU member state to withdraw from the Union is by triggering an obscure and controversial clause in the Lisbon Treaty: Article 50.