Astronaut Tim Peake, who is scheduled to be going to the International Space Station (ISS), on 15th December, 2015, says he hopes it will generate Apollo-like passion for space exploration.
Tim's mission to the ISS, called 'Principia', will use the unique micro-gravity environment to carry out experiments as well as test new technologies for future human exploration missions.
Tim chose the name 'Principia' to celebrate Isaac Newton's innovative text on physics – Philosophiæ Naturalis Principia Mathematica (Mathematical Principles of Natural Philosophy) – which describes the principal laws of motion and gravity, on which space travel today depends.
Tim Peake, a European Space Agency (ESA) astronaut who will join the ISS crew for Expedition 46/47 for six months in 2015. He has a background as a test pilot and a British Army Air Corps officer. (Image: timpeake.esa.int)
The first Brit ESA to enter ISS
Time will be the first British ESA (European Space Agency) to enter the Space Station, where he will spend five months alongside an international team of astronauts.
In an interview with the BBC, Tim, who will launch on board Soyuz TMA-19M from Russia's Baikonur cosmodrome in Kazakhstan, said his main duties are to do science, but added that sharing his experiences is a main priority.
---
---
He hopes his accounts of what is going on up there will inspire young people to become interested in space travel, science and engineering.
On Friday, he will go in front of the media in the UK for the last time before his great adventure begins.
When asked whether his mission will re-ignite public enthusiasm like the Apollo Moon missions in the 60s and 70s did, he answered "I hope it does have an effect like that to some degree."
Mr. Peake added:
"I was really keen that we make the absolute most of this mission to encourage students and young people to get involved in technology and engineering, and to study STEM subjects that will set them up for future careers in those industries."
"I think it is really important to reach out to our younger generation and to try to encourage them to take up science, technology, engineering and mathematics as subjects. We have a skills shortage at the moment, and we desperately need more graduates with those backgrounds."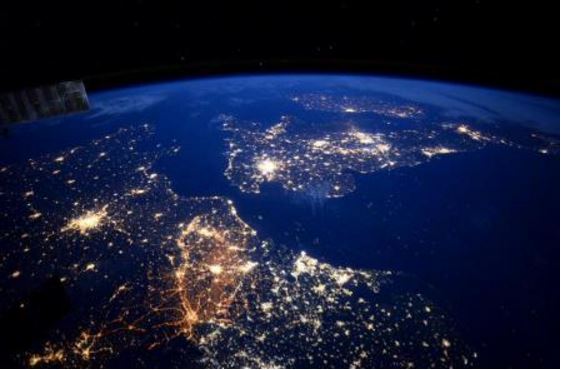 Children across the UK can enter a competition to win a large photograph of Earth taken especially for them during British ESA astronaut Tim Peake's mission on the International Space Station. (Image: principia.org.uk/news)
Tim will take off next month with Russian cosmonaut Yuri Malenchenko and NASA astronaut Tim Kopra, where they will join six crew members already on the ISS, briefly bringing the number to nine. During his 5-month mission three crew members will return to Earth, reverting to the more usual complement of six.
ISS – a unique lab
The International Space Station is a unique research facility, where Tim and his crewmates can carry out experiments that cannot be done back on Earth.
These experiments include radiation physics, materials science, solar physics, biology, physiology, and technical demonstrations.
Several of these experiments aim to improve our understanding of fundamental science, and some will determine how well new applications of science and technology work. They will all, however, improve the quality of life here on Earth, or help in future missions into deep space.
The following quote is taken from the 'Principia' website:
"Tim also wants to use his mission to inspire people, especially children, to develop their interest in science and to learn more about the career opportunitues that it opens up. There are many ways you can get involved – and this web site is the starting place to find out what is going on and how to can join in."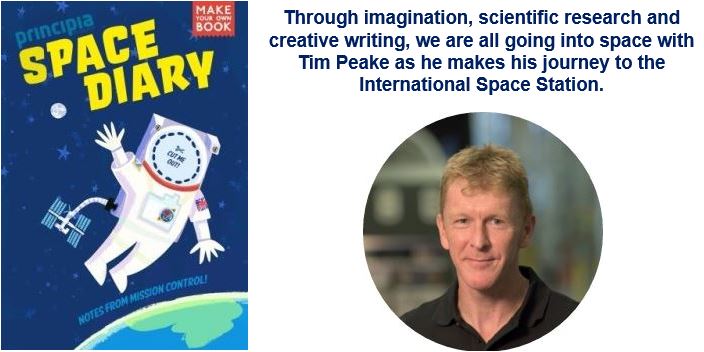 The Space Diary is full of visual activities. The aim is to encourage more children to get involved in Tim's mission.
Want to get involved in Tim's mission?
The UK Space Agency, along with its partners, have put together an exciting programme of activities for schools and other educational institutions, groups, as well as individuals so that you can participate in Tim's mission.
Activities include space-themed literature, a national seed-growing programme, fitness challenges, astronaut photographs of Earth from Space, quizzing people involved in Tim's mission, programming an ISS computer, a film-making competition, designing an astronaut's meal, and programming robots.
There are free educational resources (which you can download) to support all these activities, and much more.
Video – Tim Peake, a new ESA astronaut
Tim Peake (37), a helicopter test pilot in the British army, talks about himself and his mission.