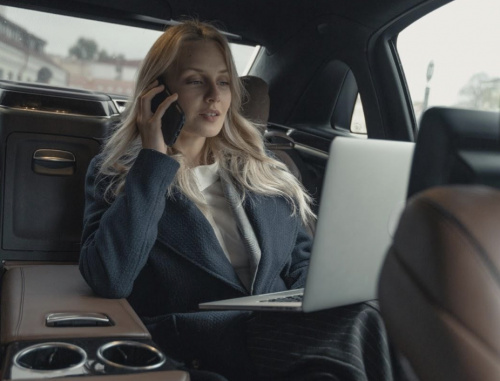 You shouldn't multitask when you're driving, but you can certainly multitask your car.
For example, are you using your personal car for business? Find out the differences of car insurance business or pleasure, including if and when you need to get business auto insurance or commercial auto insurance, what is covered, average rates, and how to choose where to get your policy.
Personal Cars Are Taking Care of Business
Working from home, taking on side gigs, and starting home businesses was already evolving before the pandemic, but COVID-19 spiked the increase in remote work.
Millions of people reframed their routines, reorganized a home space for office work, and even renovated to add space for a home business. 
But how many were rethinking their car insurance? You need to if you're among what the Bureau of Labor Statistics (BLS) has defined as the fastest-growing segment of the U.S. job market: delivery drivers. In its latest employment data, the BLS noted that the sector rose 25 percent from February to December last year.
A standard auto insurance policy only provides coverage for social use (also known as pleasure use) and commuting. That policy should be enough if you just occasionally drive your personal vehicle to a business meeting, or you commute to a single job site daily.
But anything more calls for additional insurance coverage.
What Auto Insurance You Need for Business Use
To help you determine what insurance you'll need, we'll detail the two different types of additional coverage and their average rates.
Business Auto Policy
If you use your vehicle for personal and business purposes, then a personal policy that covers occasional business use may meet your needs.
Be sure to designate that your vehicle is used for business on your personal policy. If you neglect doing that and have an accident on the way to a work event, your coverage may not apply and your claim will be denied.
The types of jobs that would fall under business auto insurance include assessors or surveyors, community service workers, real estate agents, and road salespeople or tradespeople.
Business use auto insurance covers you for third-party property damage, third-party fire and theft, and comprehensive, which encapsulates a wide range of other damages to your vehicle including storms, hit-and-run, and even damage you cause. 
The average price for business use auto insurance is $304 a month. As with standard auto insurance, your rate can vary by factors including not only your occupation but also your age and ZIP code.
Commercial Auto Policy
If you use your vehicle primarily for business purposes, consider a commercial auto policy that provides protection for work-related uses.
The situations for which you would want to have commercial auto coverage include:
Your job requires you to drive daily to meet multiple clients at different places.

You haul commercial goods related to the business.

You transport passengers for work reasons.

Your vehicle has permanent work equipment.

Your vehicle is a pickup, work van, or utility vehicle that weighs over 10,000 pounds.

You travel with expensive equipment and tools for your business.

You need commercial auto liability coverage to perform certain duties on job sites or at a client's residence.
As you can see, a commercial auto insurance policy covers a range of business uses that carry greater potential risk. If you don't have this coverage, your personal auto policy provider may deny coverage for work-related incidents and could even cancel your policy.
Commercial auto insurance extends coverage of property damage or theft, so job-related equipment is covered. It also includes more liability coverage, so the clients you're transporting are covered.
You can tailor your commercial auto insurance to your company's specific driving habits. Talk to your current insurer about how you use your vehicle to see that your particular business needs are covered.
An average price for commercial auto insurance is harder to estimate because there are many more variables involved than with business auto insurance. For a ballpark figure, the rate could be up to $2,000 annually.
Insurance That Delivery Drivers Need
Most food app delivery drivers will need commercial auto insurance.
Insurance companies consider food delivery a business use of a vehicle. If you don't tell your insurer you're delivering, you could face a claim denial if you cause an accident.
Best Ways to Get Additional Auto Insurance
In addition to listing the companies most recommended for business and commercial auto policies, we'll share ideas of how to save on those, too.
Best Vehicles to Suit Your Needs
If you're looking to purchase a car to accommodate both your business and personal needs, here are five factors that could help decrease your insurance premium:
#1 – Make: Nissans, Hondas, Toyotas, Chryslers, and Dodges are the most affordable makes to insure. 
#2 – Model: Opt for a minivan, crossover, sport utility vehicle (SUV), pickup, or sedan, in that order, as they're the top five most affordable models. Insurance companies see them as a lower risk than, say, a sports car, which is typically driven at higher speeds and can cause more accidents.
#3 – Year: New vehicles can be more expensive to insure because one of the main factors insurance companies base your rate on is the car's value.
#4 – Safety: Features that are proven to protect drivers and passengers — including airbags, anti-lock brakes, and electronic stability control — reduce your rate for reducing risk. 
#5 – Theft: Steer clear of the Ford pickup (full size), Honda Civic, Chevrolet pickup (full size), Honda Accord, Toyota Camry, Nissan Altima, Toyota Corolla, Dodge pickup (full size), GMC pickup (full size), and Honda CR-V. The National Insurance Crime Bureau reported these as the vehicles most stolen. Vehicles attractive to car thieves also attract higher insurance premiums.
Best Practices for Better Insurance Rates
As with regular car insurance, you'll be doing yourself a favor on your rate if you have a clean driving record, a healthy credit score (unless you're in a state that bans that practice), and are a homeowner who insures your car and home with the same carrier. 
How to Choose Your Auto Insurance
You still may not be sure which auto insurance coverage category you fall into.
It can be a gray area. But an experienced insurance agent deals with these issues full time, so they can guide you to the right coverage so you won't pay for more than you need.
One way you can help make that decision easier is to observe your daily business-related driving habits and share that with your insurer. Keep a driving log, noting your location, cargo, any clients in the vehicle, and your number of stops.
Best Companies for Additional Auto Insurance
Doing your research and comparison shopping is the best way to find the best policy for the business use of your car. Each insurance provider will quote you a different rate for your coverage.
Insurers also vary on the amount of discounts they offer and the percentage of savings on each discount, so make yourself aware of those, too.
Check at least three companies, including your existing company since you may already have loyalty discounts and accident forgiveness with them that you wouldn't receive with a new carrier. Top commercial auto insurance providers are State Farm, Nationwide, Progressive, Geico, and GMAC.
For delivery drivers, some auto insurance companies responded to the pandemic by extending coverage to those using their personal vehicles to make deliveries, including Allstate, Farmers, Progressive, Liberty Mutual, Travelers, and USAA.
So your best bet is to contact your auto insurance agent and find out if they've extended coverage and for how long, and what additional coverage you need and when you need it to be properly covered when you make your deliveries.
In addition, several states encouraged insurance companies to ease restrictions on coverage for food delivery, including Alabama, Colorado, Montana, North Dakota, Pennsylvania, Rhode Island, Tennessee, and Washington.
Allstate, State Farm, and Progressive are among the companies that provide delivery driver insurance. If you already have personal auto insurance with one of them, then it may only cost a few extra dollars per month to add commercial auto insurance. The average delivery driver insurance quote is between $104-$225 a month.
For example, Allstate offers coverage available as an add-on to Uber Eats drivers. State Farm has an add-on available for food/goods delivery service for about a 5 percent premium increase.  Progressive's food delivery coverage can be purchased and adjusted for busier months.
Additionally, Geico has add-on coverage that can be purchased by drivers for any on-demand app for about $20-25 more a month.
Insurance is a very competitive industry, and it's good business for an auto insurance company to try to work with you to get your business. We hope we've provided ways to make that easier so your multitasking vehicle is properly covered and at the most affordable price.
Karen Condor is an insurance expert who writes and researches for the auto insurance comparison site, AutoInsurance.org.
---
Interesting Related Article: "9 Most Frequently Asked Questions on Term Insurance"