British multinational insurance giant, Aviva plc, has written to thousands of customers for the second time in two years, following concerns that employees sold personals data of customers who had recently suffered vehicle accidents.
This is the second time Aviva has been hit by a data theft.
The motorists' personal details were sold to claims companies. Claims companies are firms that offer advice and services in respect of claims for compensation, repayment or restitution or any other remedy for damage or loss, or in respect of some other obligation, i.e. ambulance-chasing lawyers.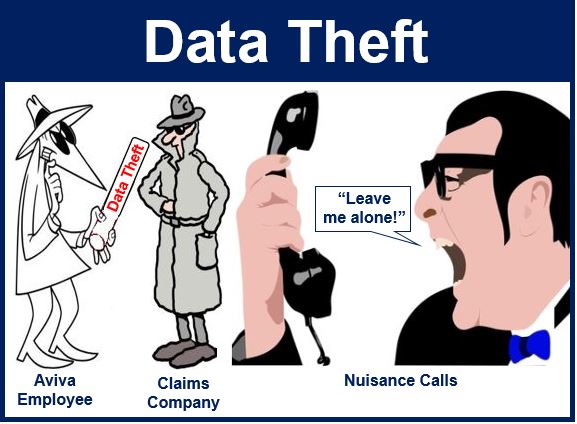 The Aviva employee steals motorists' personal data and sells it to a claims company, which harasses motorists with phone calls.
Claims companies harass motorists
Customers have complained, saying they have received up to ten calls each day by claims companies trying to persuade them to make personal injury claims.
---
---
Aviva, which has apologized to customers, says it has fired one employee, and has informed the Financial Conduct Authority (FCA) and the police. The FCA is a financial regulatory body in the UK that operates independently of the government.
The data theft is thought to involve motorists insured with Aviva who had vehicle accidents in 2013 and 2014.
BBC News gives the example of Eleanor from West Lothian in Scotland whose empty car was hit by another driver in 2013. The other driver left his insurance details on her vehicle.
Not long after the claim was settled (through Aviva), she was bombarded with calls from claims firms.
Eleanor said:
"I started getting calls on my mobile and my landline constantly, sometimes up to ten a day. Ambulance chasers, wanting to know if I wanted to put in a personal injury claim."
"They knew the day of the accident but they didn't know that it wasn't a car crash. And it went on and on for so long."