BAE Systems has clinched a $1.2 billion contract to Engineer, Manufacture and Develop (EMD) the Armored Multi-Purpose Vehicle (AMPV). The AMPVs will replace the Vietnam-era M113s.
Vice president and general manager of Combat Vehicles at BAE Systems, Mark Signorelli, said:
"This award represents a significant milestone for the U.S. Army and BAE Systems. The AMPV will provide a substantial upgrade over the Army's current personnel carrier fleet, increasing the service's survivability, force protection, and mobility while providing for future growth potential. It also confirms BAE Systems' role as a leading provider of combat vehicles."
Initially, for a period of 52 months, the London-based defense contractor will produce 29 AMPVs across each of the variants. This stage of the award is worth $383 million.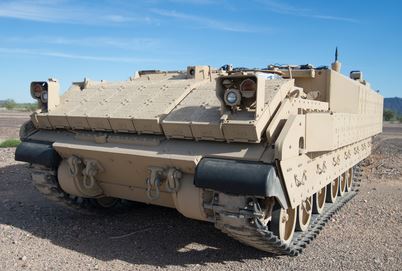 BAE Systems' Highly Survivable, Affordable Armored Multi-Purpose Vehicle. (Photo: BAE Systems)
BAE also has the options to start the LRIP phase straight away following the current EMD phase, when the company would produce a further 289 vehicles for a total contract value of $1.2 billion.
According to BAE Systems:
"The AMPV capitalizes on proven Bradley and M109A7 designs, meeting the Army's force protection and all-terrain mobility requirements while enabling the AMPV to maneuver with the rest of the Armored Brigade Combat Team (ABCT). The maximized commonality within the AMPV family of vehicles and the ABCT will reduce risk and provide significant cost savings to the Army."
The BAE Systems AMPV teams includes Northrop Grumman Corporation, Air Methods Corporation, DRS Technologies, and Red River Army Depot.
Work on the project will start immediately and will take place mainly at the BAE Systems York, Pennsylvania, and Sterling Heights, Michigan, facilities.