The Bank of England had a Scottish independence emergency plan that would have been implemented had the Scots voted to separate from the United Kingdom in September's referendum.
The Bank of England (BoE) was poised to pump money into the financial system to make sure there was enough liquidity. It had also issued extra banknotes in case a large number of Scottish deposit holders started withdrawing their money.
The UK's central bank was also ready to stand by notes issued by banks in Scotland in its attempt to prevent panic and a massive capital flight.
In Scotland, unlike Wales and England, bank notes are issued by Scottish banks, which are guaranteed by deposits at the BoE.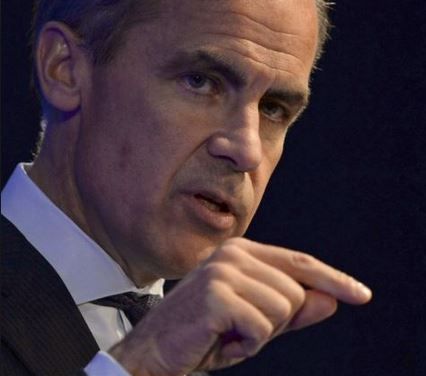 Marc Carney returned to London early from a G20 meeting in Australia.
The BoE said:
"Under current arrangements, Scottish banknotes are backed fully by their issuers' holdings of Bank of England notes, UK coin and deposits at the Bank of England. This would have been a key public message in the event of a 'Yes' vote."
Had the majority of Scots voted for independence from the United Kingdom, the BoE would have made a public statement "reaffirming its responsibilities for financial stability, prudential regulation, banknotes and monetary policy in the entire United Kingdom, including Scotland" until the separation of the two nations was completed.
The September 18th referendum result showed that 55.3% of Scots voted to remain in the 307-year-old union with the UK, while 44.7% voted for independence.
Concern about UK's and Scotland's credit rating
In a synopsis of the minutes of the Financial Policy Committee, the BoE wrote:
"The Committee had noted the possible impact of a 'Yes' vote on market perceptions of the UK"s creditworthiness. If an independent Scotland were not to accept its proportionate share of the debt, the Committee felt this could have modest implications for the UK's sovereign credit rating. The implications for the implied credit rating of an independent Scotland could have been more material."
As the poll date got nearer and the 'Yes' and 'No' vote appeared to be neck-and-neck, Mark Carney, Governor of the BoE flew back to London from Cairns, Australia where he was to attend a G20 meeting. The Chancellor George Osborne did not attend the G20 meeting.
There was serious concern among members of the Committee that financial institutions fearing instability if Scotland adopted a new currency, might chose to reduce their exposure to Scottish assets, i.e. pull their money out of the country.