A bank scammer emptied an elderly woman's bank account after carrying out an evil confidence trick. The victim, in the United Kingdom, lost every penny in her bank account, as well as savings she had been building up for her granddaughters.
The bank scammer, pretending to be from the Royal Bank of Scotland, sent the elderly lady a card reader, claiming that it should be used for online banking.
The con artist also managed to obtain the victim's telephone number and contacted her by phone, pretending to be a Royal Bank of Scotland employee who was phoning customers to help them activate the card reader.
Bank scammer removed all her money
When the woman said she did not want it, she was told the bank could cancel it for her. Tragically for her, what she thought was a helpful service ended up removing all the money from her bank account.
Patricia Barry, a friend of the victim, said the bank scammer asked her to insert the card and reveal her full card details on the phone. The Royal Bank of Scotland warns customers never to do this (reveal bank details over the telephone).
When the lady went into her bank branch the following day, she discovered that every penny in her account had been stolen.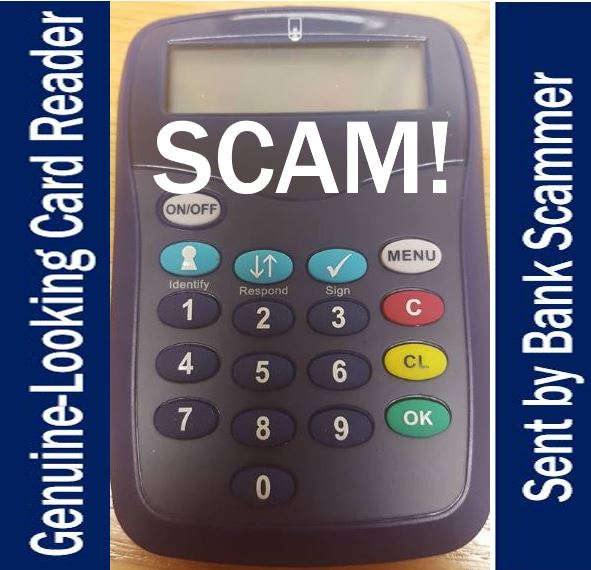 The bank scammer sent the elderly lady this genuine-looking card reader. Then followed up with a phone call. (Image: adapted from Facebook)
Bank scammer warning by victim's friend
In a Facebook post, Ms. Barry told her friends about how an elderly lady fell victim to a bank scammer.
Ms. Barry wrote:
"One of my ladies received this digital card reader in the post 2 weeks ago from The Royal Bank of Scotland with the enclosed letter."
"She left it to one side as being elderly she wasn't interested in it. 2 days ago she had a phone call from the bank asking if she received it she said she had but was taking it back to bank as she didn't want it, the 'very nice man' told her she didn't have to do that he can cancel it for her and told her to put her card and number in to do this."
"The next day she went to the bank for a statement and yes you can guess so every penny had been took out of her account including savings for her granddaughters! She was devastated and the worst of it is SHE felt foolish and ashamed!"
Ms. Barry added that the victim luckily managed to get her money back. However, she also warned friends that a new digital system is currently coming out.
She urged her Facebook friends to tell their contacts that what the bank scammer sends and then tells potential victims looks and sounds very genuine.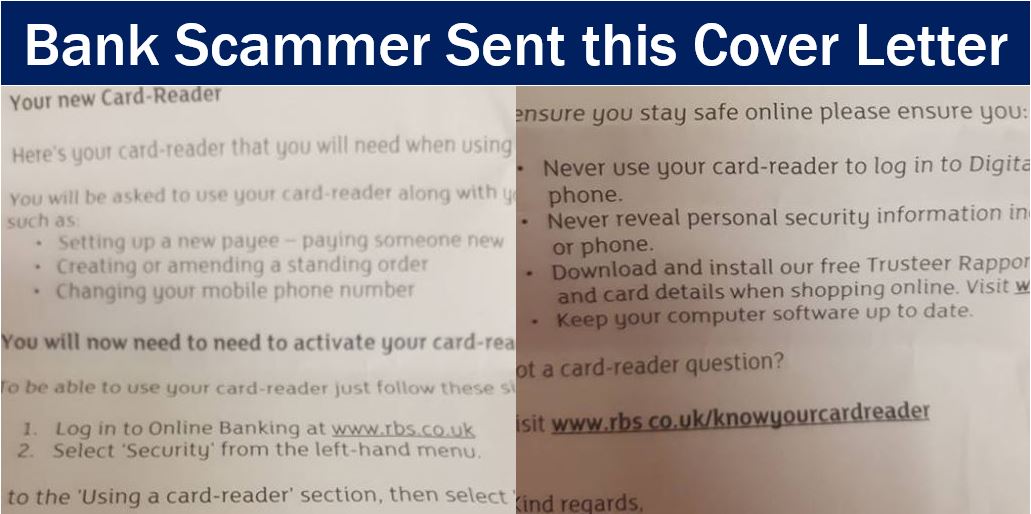 The bank scammer also wrote this cover letter, which arrived with the fake card reader. As far as the victim was concerned, it was all official-looking and came from her bank. (Image: adapted from Facebook)
RBS warning to customers
The Royal Bank of Scotland has a web page with information on bank scammers and the type of confidence tricks they pursue, including:
– Changing of Bank Details Scam: "Fraudsters are targeting post, in particular invoices and cheques. Regular invoices between suppliers, contractors and other third parties are just as vulnerable as cheques," says RBS.
– Investment Fraud: refers to any deception or scheme relating to investments that affect a company or individual. As traditional investments lose their appeal due to lower returns, high-yielding investments have become more attractive to con merchants.
Examples of schemes that try to take people's money unlawfully are Land Banking Schemes, Ponzi and Pyramid Schemes, Share Sale Fraud (boiler room fraud), and Carbon Credit Fraud.
– Overpayment Scams: these are becoming more common and are targeted at businesses.
– Phishing: pronounced fishing, is a con trick that bank scammers used to get hold of customers' personal information. According to RBS:
"Phishing typically happens when criminals send convincing looking but fraudulent emails, although they have also been known to use phone contact."
"These emails are often sent to thousands of individuals – in the hope that some will be hoodwinked into supplying personal information. This may include user names, email addresses, passwords, bank account, and credit card details."
– Clearing Cycle Scams: where the bank scammer uses the clearing cycle to try to influence a bank customer to refund a payment before the original funds have cleared.
Remember, your bank never asks for confidential bank details, such as PIN numbers and passwords. If you get a telephone call and the person says they are from the bank and then ask you for such details, hang up immediately.
Bank scammer telltale signs
Before picking up the telephone or responding to an email, letter or fax, RBS advises customers to look out for the following bank scammer telltale signs:
– Are you being offered someting for nothing, when you have not had any previous correspondence or involvement?
– Is the spelling or grammar poor?
– Does the contact address consist of a PO Box number?
– Does whatever is being discussed involve having to make a payment to an unconnected party abroad?
– You are told that there is an 'opportunity' to earn easy money, all you have to do is put up some cash up front in order to cover the administration or fee costs. Often this involves providing your account details.
Video – bank card fraud
According to this Which?  video, bank card fraud is considerably easier than banks admit. Which? says that it has seen evidence that criminals can use a stolen credit or debit card to pay for items without the cardholder ever divulging his or her correct PIN. Which?  is a British charity that exists to promote consumer choice and raise awareness of consumer rights – it offers independent consumer advice.