EasyJet, which is based at London Luton Airport, will effectively move its headquarters to Austria following the completion of BREXIT – BRitain EXITing the European Union (EU). It will create a new airline – easyJet Europe – headquartered in Austria's capital Vienna, which will enable the airline to operate flights both across the European continent and domestically within European countries after the United Kingdom leaves the EU "regardless of the outcome of talks on a future UK-EU aviation agreement.
EasyJet, which was founded in 1995, carries 78 million passengers annually. It is the UK's largest and Europe's second largest airline, calculated by the total number of passengers carried.
As the vast majority of the airline's destinations are within Europe, its new carrier will constitute most of the company's flights, which means it is effectively moving its head office out of the UK.
It is one of many large British companies that are either moving or considering transferring some of their operations from the UK to continental Europe following the BREXIT vote in June 2016.
In a press release issued on 14th July, 2017, easyJet announced:
"Following a rigorous and comprehensive process, easyJet earlier this year applied to Austro Control for an Air Operator Certificate (AOC) and to Austria's Federal Ministry for Transport, Innovation and Technology (bmvit) for an airline operating licence."
"The accreditation process is now well advanced and easyJet hopes to receive the AOC and licence in the near future."
"These will allow easyJet to establish a new airline, easyJet Europe, which will be headquartered in Vienna and will enable easyJet to continue to operate flights both across Europe and domestically within European countries after the UK has left the EU (regardless of the outcome of talks on a future UK-EU aviation agreement)."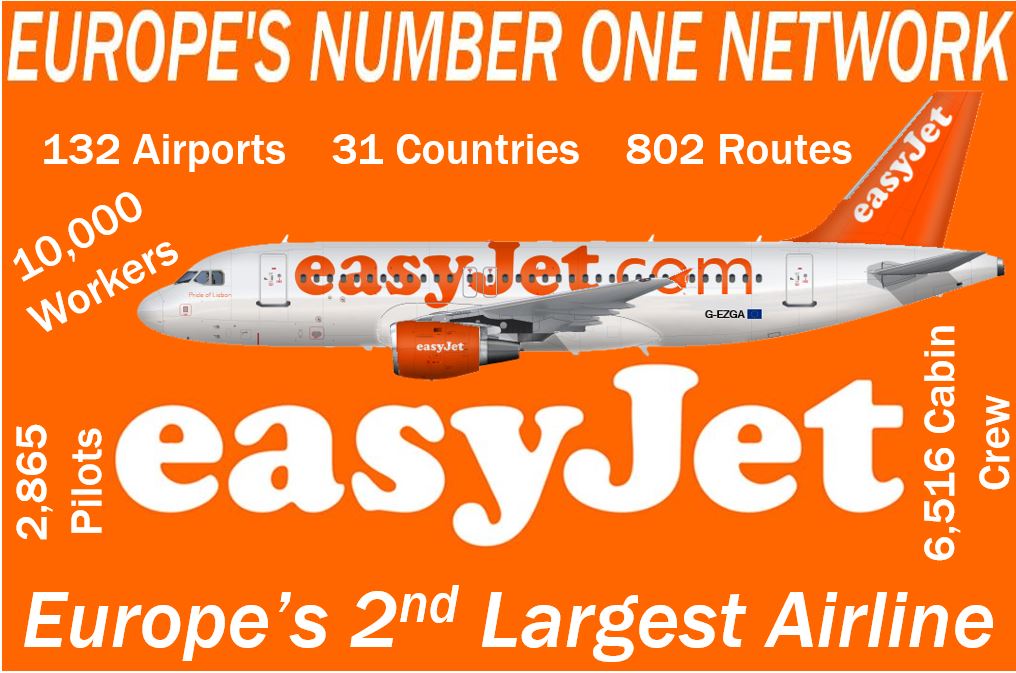 EasyJet operates over 200 aircraft, mostly Airbus A319. It has twenty-eight bases across Europe – the largest is at Gatwick Airport, England. It is a budget airline – it does not provide complimentary snacks or meals on board, and does not sell connecting flights. (Image Data: from the airline's corporate web pages)
EasyJet wants to protect European routes
EasyJet says the aim of this new structure is to protect all the airline's current flying routes within Europe. It says it will continue to push for the EU and UK to reach an aviation agreement which will enable flights between the EU and UK.
Since the end of the last century, airlines based in European Union countries have been free to fly between any two points within the European continent.
The budget airline is planning for a worst case scenario should the UK fail to negotiate the same aviation freedoms that the country currently enjoys as an EU member state.
British Government ministers have insisted that maintaining unfettered access to European aviation markets is a 'top priority' during the BREXIT negotiations which started in June 2017.
The company said the establishment of the new airline will create a number of new jobs in Vienna. It insists that no jobs will be transferred from the UK to its new Austrian headquarters.
The company added:
"EasyJet has operated in Austria for 11 years, flying more than a million passengers in 2017. Last year easyJet increased the number of passengers it carried to and from Austria by 60%."
Does this mean that jobs will leave the UK? According to the budget airline, the answer is:
"No. The establishment of easyJet Europe will create a number of new jobs in Austria, but no jobs will move from the UK to Austria. All of easyJet's UK employees will continue to be based in Luton and our 11 UK bases and employed as they are today."
"The people and planes which will form easyJet Europe are already based in Europe – easyJet employs around 4000 people across continental Europe and bases around 100 aircraft in 6 EU countries and does so on local contracts and in full compliance with local and EU rules and regulations."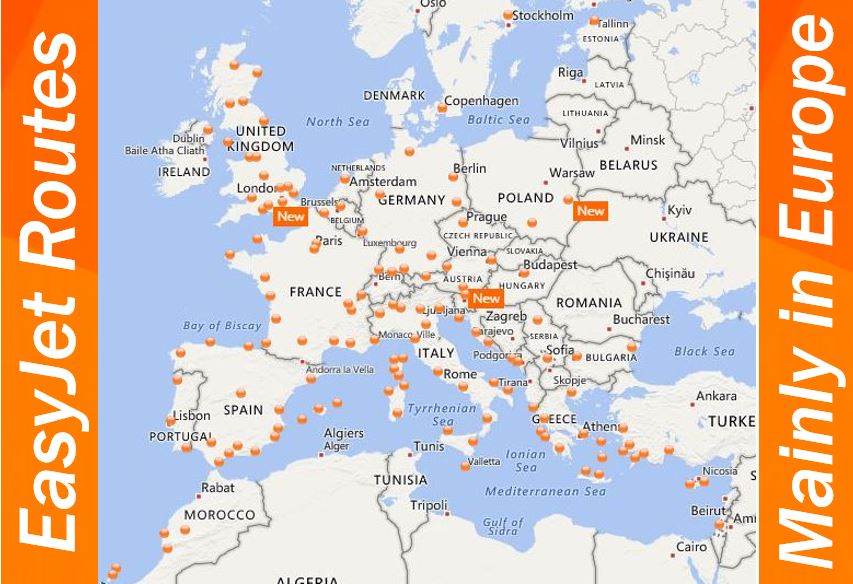 Without its European destinations, easyJet would be a tiny airline. (Image: adapted from the airline's routemap web page)
EasyJet faces further potential problems
This move does not solve all the airline's BREXIT-related problems. According to EU regulations, non-EU ownership and control of an airline based within the trading bloc cannot exceed 50%.
Experts warn that EU airlines have provisions within their bylaws to force non-EU stockholders (shareholders) to sell if their operating licence is ever under threat.
Sir Stelios Haji-Ioannou, a British business magnate born in Cyprus, founded easyJet in 1995, when he started a series of ventures marketed under the 'easy' brand. (Image: twitter.com/steliosphilfdn)
Earlier this week, Willie Walsh, CEO of IAG (International Airlines Group), which owns British Airways and Iberia, urged EU regulators to relax those rules. Mr. Walsh said that the trading bloc "operates under an arcane system regulating the ownership and control of airlines."
Rival airlines across the EU are insisting that British airlines should not be allowed to join the single aviation market without abiding by the same rules and regulations as EU airlines.
Thomas Krupp, Senior Vice-President of German airline Lufthansa, said:
"What we don't want is for different legislation to apply within the single market. The same rules should always apply."
Video – Sir Stelios Haji-Ioannou presentation
In this London School of Economics (LSE)video, Easyjet founder and LSE alumnus, Sir Stelios Haji-Ioannou, talks about entrepreneurship, building a pan-European brand, and philanthropy.