Barclays customers in the UK can now stop transactions at specific retailers. The bank says it is the first UK high street bank to offer this to its customers. Vulnerable Barclays customers will have greater control over their money, the bank claims.
High street banks are retail banks. In other words, they provide financial services to individual people rather than companies, governments, and other financial institutions.
Barclays says it developed the new tool with "customers in vulnerable circumstances in mind."
However, the feature will help all Barclays customers gain more control over where their money goes. Additionally, the feature will make them less vulnerable to scams and fraud, the company adds.
Vulnerable Barclays customers
Barclays worked with the Money Advice Trust and the Money and Mental Health Policy Institute to identify which groups of customers would benefit the most. Specifically, benefit from being able to determine how and where their money is spent.
Among Barclays customers who will benefit are people with addictions and mental health issues. People who rely on carers (USA: caregivers) or guardians to manage their finances will also benefit.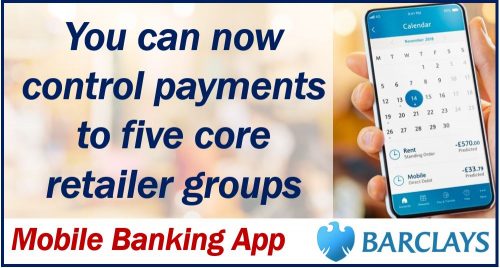 Just press a button
Within the Barclays mobile banking app, there is a button. All the customer has to do it press it to choose which types of retailers they can spend with. If the Barclays customer or anybody else tries to buy something in a 'turned off' category, the card will be declined.
Barclays customers will be able to control payment possibilities to five core retailer groups:
Pubs, bars, takeaways (USA: takeouts), and restaurants.
Petrol (USA: gas/gasoline) and diesel.
Groceries and supermarkets.
Premium rate phone lines and websites, such as adult lines, 118, numbers, and 09 numbers. Also in this category are TV voting lines and 0870 numbers.
New mobile Banking app feature for Barclays customers
Managing Director at Barclays, Catherine McGrath, said:
"We are always looking for new ways to support our customers and make it easier for them to manage their finances."
"We work with a range of advisors and partners, as well as consulting with our customers, to identify how our customers' needs are changing and what works for them."
"This new control feature is the latest new service that we have introduced in the Barclays Mobile Banking app that aims to give all of our customers a better way to manage their money in a simple, secure and effective way."