Do bees have regional accents? This is what scientists from Cardiff University hope to find out after asking approximately 3235 beekeepers from Chepstow to Holyhead – across the whole of Wales – to help by recording sounds from their summer hives and gathering photo and video images of bees close to plants.
The researchers, from the University's School of Pharmacy and Pharmaceutical Sciences, also aim to work out which types of plants provide the best source of nectar for honey production in the beehive.
Les Baillie, Professor of Microbiology, and colleagues are currently installing a remote monitoring system to a hive on the School of Pharmacy's roof, which will allow them to listen to the sounds made by their own bees. The device also records factors such as humidity and temperature.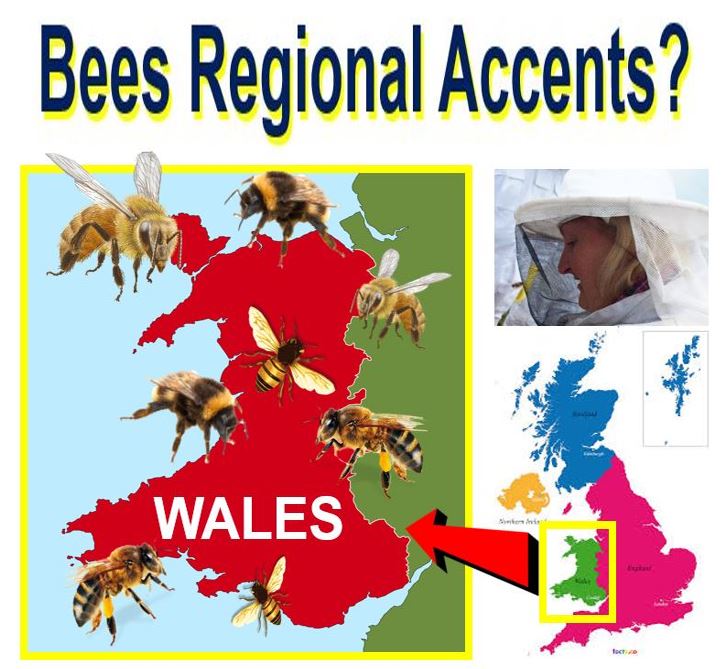 Scientists from Cardiff University have asked beekeepers across Wales to help them in their research on bees, which includes determining whether they have regional accents. The ultimate aim is to find ways of boosting beehive productivity.
Positioning plants to boost productivity
Regarding the sound a hive makes, Prof. Baillie said:
"It is thought the sound a hive makes may be influenced by the health of the bees and whether they are about to swarm. Initially, we are hoping beekeepers across Wales will send us sound, video, and photo files of bees around their hives so we can build a picture of summer – the sound of buzzing bees, traffic, etc."
---
---
"Plotting these differences could ultimately help us in our bid to find out which plants help bees the most. Gathering photos, video and sound files will help us understand where gaps lie, and will help put plants in the right places to make bees more productive."
If enough beekeepers respond to their appeal, and researchers detect initial differences, the project could be rolled out to include beekeepers across the whole of Britain – over 40,000 of them.
🐝 Do bees have regional accents?
Scientists at @cardiffuni hope to find outhttps://t.co/wCHOr0PaTH

— BBC Wales News (@BBCWalesNews) July 15, 2016
Dr. James Blaxland, who also works in the School of Pharmacy and specialises in infectious diseases, microbiology and cell biology, and has investigated the antibacterial effect of Manuka honey on infections, said:
"We've been making our own University campus as bee-friendly as possible, and producing our own honey, so mapping bees across Wales will give us a bigger picture of how bees live."
---
---
The research team is urging Welsh beekeepers and members of the public to send images to the School of Pharmacy's website at spotabee.buzz. Audio files should be emailed to [email protected].
In its appeal for help, spot-a-bee writes:
"Help us with our research by identifying the bee or plant species when you record your sighting. Take a look through our visual guide below. Don't worry if you're not sure, we'll double check!"
---
[soundcloud url="https://api.soundcloud.com/tracks/273651421″ params="color=ff5500″ width="100%" height="166″ iframe="true" /]
---
Summer of Innovation
This project forms part of the University's Summer of Innovation – a showcase of Cardiff University's innovation projects.
The Summer of Innovation, which Cardiff University says showcases the best of its innovation work, runs from June to October 2016. It brings together students, academics, plus the public & private sectors to strengthen existing partnerships and 'create real outcomes'.
Please help us find out about food sources for bees in Cardiff! "Spot-a-bee" https://t.co/iNEA3K94t1

— spot-a-bee (@spotabeecardiff) June 14, 2016
Cardiff University writes:
"Summer of Innovation will shine light on ideas for research projects, collaborations, and new relationships, building our connections with the outside world, from research partners to new businesses."
Bees need more friendly environment
DEFRA (UK's Department for Environment, Food and Rural Affairs) said earlier this month that bees need a more friendly environment and that there is much members of the public can do to help.
DEFRA warned that if we do not all make a concerted effort to restore the populations of bees and other insect pollinators, our agricultural production will decline significantly and we could in the near future be facing an alarming food security problem.
The 1,500 different insect pollinator species in the UK help plants reproduce by carrying pollen from one flower to another as they feed.
DEFRA offers the following advice to gardeners, farmers, developers, land owners and local authorities:
– Plant more shrubs, trees and flowers
– Let our gardens to grow wild
– Mow our lawns less often, and when we do we should not cut the grass so short
– Leave insect hibernation spots undisturbed
– Leave insects alone
– Consider carefully next time you are about to use pesticides; do you really need them?
Video – Bees
This video, by Cardiff University's School of Pharmacy, talks about its research on bees and some of the amazing properties of honey.