Road, rail and air transport have been brought to a standstill in Belgium, forcing many commuters and schoolchildren to stay at home and businesses to close. The Eurostar train service to Brussels has been cancelled, as have hundreds of flights across the country.
The nationwide 24-hour industrial action, i.e., general strike, comes as the new center-right coalition government starts rolling out new austerity measures, which include saving €11 billion ($13.7 billion) over the next five years.
The strike is Belgium's biggest in many years. All ports have been blockaded, schools have had to close, as have most government offices.
Unions say garbage (trash, rubbish, refuse) will not be collected today and newspapers will not be delivered. Pickets also stood outside the Brussels headquarters of the European Union.
Workers are also protesting at Prime Minister Charles Michel's decision to abandon the cost-of-living wage rise in 2015, which until he came in had been a legal requirement (to raise wages according to inflation).
Soon after the government had announced its new measures, unions organized a massive march, said to include 100,000 protesters, which ended in violent confrontations with the police in November.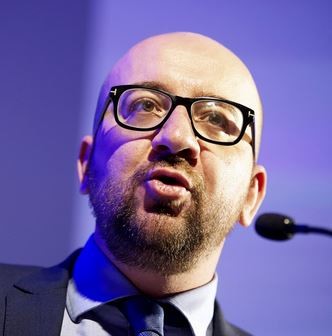 Aged 38, French-speaking Mr. Michel is Belgium's youngest leader since 1841. He heads a coalition of his own Francophone liberals and three Flemish-speaking right-of-center parties.
The coalition government is scaling down public sector spending and plans to raise the retirement age from 65 to 67, two measures the unions fiercely oppose.
Belgium, along with France and Italy, has been given until March 2015 to bring its budget within the agreed ceiling or face additional scrutiny from the EU Commission.
The country is adhering to the 3% budget deficit ceiling rule, unlike its neighbor France. Belgium's public debt is set to hit 107.8% of gross domestic product (GDP) by 2017, versus 104.5% in 2013. EU rules stipulate that member nations must not exceed a public debt of 60% of GDP.
The European Commission's drive to get countries to become fiscally disciplined has not gone down well with unions. On Friday protests in Italy paralyzed schools, hospitals and transport.
Asked whether their intention is to bring down the government, Marie-Helene Ska, head of the Christian CSC union, responded on Belgian TV:
"The government was elected democratically. We do not challenge it at all. What we want is to know where Belgium will be in five years on social matters."