House prices fell by a record level in December, leaving them 7% higher than at the beginning of the year compared to 8.5% in November, property firm Rightmove announced on Monday. Property prices, i.e. the asking prices for homes on sale, fell by an average of £8,703 or 3.3% in December.
The average price of properties coming onto market now stands at £258,424.
Despite losing some of its momentum recently, the UK's housing market is expected to continue gaining in 2015, but probably at a slower pace than during the first half of 2014. The market has slowed down mainly due to more stringent mortgage legislation, weak wage growth, and pre-election jitters.
Rightmove expects the asking prices for houses in 2015 to rise by about 4% to 5%.
Chancellor of the Exchequer George Osborne's stamp duty reforms should give the housing market a small boost, as should a shortage of homes for sale in sought-after areas, Rightmove wrote.
While demand for property declined in the second half of 2014, more recently so has supply. Over the last four weeks there have been 76,823 new sellers on the market, which is 4% less than during the same period in 2013.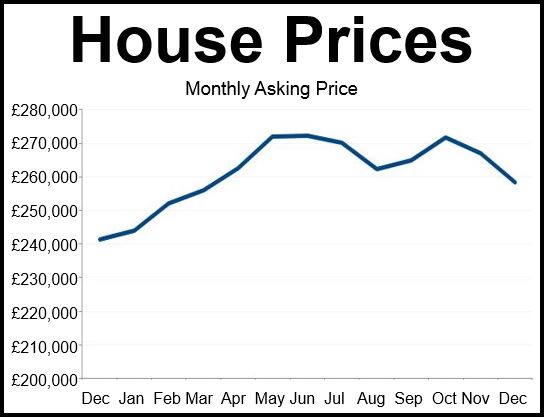 Source: "National Trends," Rightmove.
The South East and South West of England should see stronger price growth and sales volumes than the rest of the country next year, Rightmove has forecast. London, on the other hand, may have a sluggish year.
Some London areas will continue to re-adjust with several different forces at play. In some inner-city locations, affordability has already been stretched to its limit.
Miles Shipside, Rightmove director and housing market analyst, said:
"Whilst a near £9,000 drop is the biggest ever reduction in the price of newly marketed property compared to the month before and a sign of a market continuing to cool, a fall is not unexpected in December. Though sellers are fewer in number at this time of year, those that do come to market are often keener to sell so price lower in a bid to stand out."
"The overall picture for the year is still one of a much recovered property market, with sellers and their estate agents confident enough to be putting property on the market at a higher price on average than a year ago, although we predict a slower pace of price growth in 2015. This means that sellers and agents will have to work harder to achieve a sale next year."
Rightmove's quarterly Consumer Confidence Survey reported that 63% of respondents believe that house prices will be higher in 12 months' time, down from 75% in previous quarter and 79% in the quarter before that.