Regardless of the size of your business, you probably know that winning customers is one of the most daunting things. Even difficult is getting customers to walk into your shop if you are running a traditional brick and mortar business.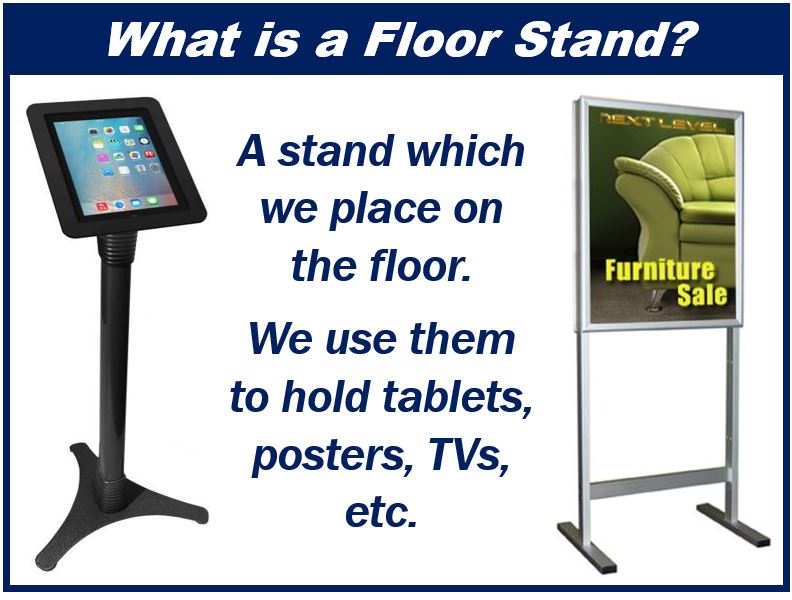 But why is it so difficult to attract customers to a business? One of the main reasons is that there is a heightened competition between businesses selling the same brands at the same price.
To beat the competition and stand out, it's of utmost importance to enhance your marketing strategy. The good news is that you can use a floor stand to catapult your marketing campaign.
This article will go into detail on the benefits of using floor stands in your marketing campaign as well as factors to consider while choosing a formidable stand for your tablet.
Why it is Makes Sense to Use Floor Stands in Marketing
1. Makes Your Brand Known
Floor stands tend to elevate your brand and products in many different ways. By the mere fact that your floor stands are always in front of your customer, it goes to show that you are there for your customer, regardless of whether a product has run out or not.
2. Floor Stands Can Be Customized
Floor stands can be made using different materials. This way, you can consider the needs of your image as a store. Even better, you can customize the colors of your display stand to be in line with those of your store. Finally, you can customize your display stand to your desired shape and size. This way, it can fit anywhere in the store.
 3. It Ploughs in Revenue
Any business aims to make profits. One of the best ways to do this is through effective and sustainable marketing. The good news is that display stands for retail marketing play a significant role in convincing people to buy from your store.
Statistics show that brick and mortar stores enjoy a 70% purchase rate of products. So, while online stores are swiftly gathering pace, display stands help physical stores to increase their revenue!
4. It Increases Customer Convenience
In today's business world, convenience is becoming one of the most important things. Businesses that make it easier for customers to buy their products will scale their sales. But how do display stands ensure customer convenience?
Well, by having display stands on your store, you will be giving a prospective customer exactly what they're looking for. This hassle-free marketing will, in turn, ensure customers make hassle-free decisions with regards to buying products they are looking for from your store.
5. It's Cheap
In order to make profits, businesses ought to minimize expenditure and any other costs. With marketing a business being utterly costly, your business needs a cheap solution that won't compromise your marketing campaign. Luckily, display stands come in cheaply and bring in a lot for your business.
Factors to Consider When Choosing a Floor Stand for your Tablet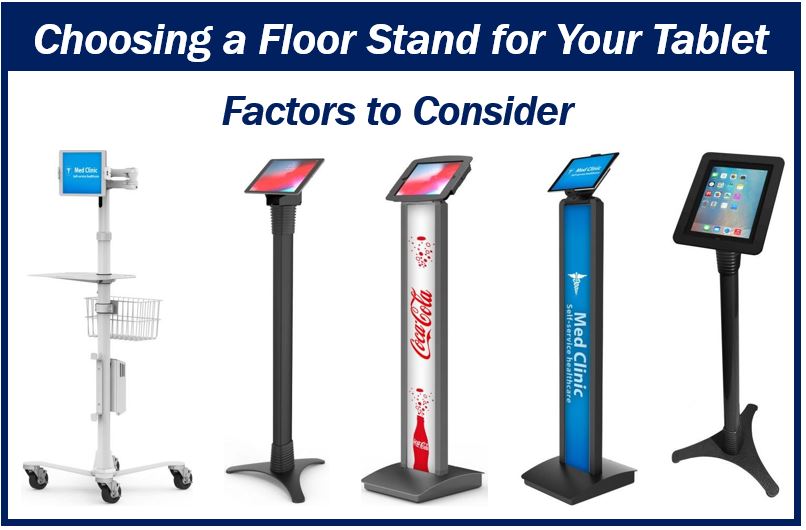 Security
Whether you are running a small or well-established store, one thing is for sure- your tablet can be stolen. Therefore, when looking to buy a floor stand for your tablet, security should be your primary concern. You should ensure that your stand can be locked. This will prevent any thieves from easily getting access to your tablet.
Durability
Another factor to consider is durability. This factor comes in handy, especially if you are looking to use the stand in a business environment that is busy.
Although your display stand should be aimed at safeguarding your tablet, it should also make it easy for the tablet to be charged, removed, and fitted with accessories. Therefore, the materials used to make the display stand should not only be durable but should also perfectly fit your tablet.
Aesthetics
While a display stand is made to hold your tablet in place, you should never overlook its aesthetic value. When looking for a tablet display stand, always remember that the look and feel equally play an integral role.
If you are planning to use the tablet in a hospitality environment, the need for aesthetics is even much greater. The same applies to customer service and retail business.
Always remember that the design and color of the tablet stand form a major part of the aesthetic. Therefore, ensure that the stand is inconspicuous, simple, and streamlined. However, when it comes to color, feel free to play around with them, but ensure that they can blend in well with your theme color.
---
Interesting related article: "What is Marketing?"