American multinational consumer electronics corporation Best Buy Co. Inc. posted net income of $107 million in the third quarter compared to $54 million in Q3 last year, beating Wall Street predictions.
While encouraged by stronger sales as it heads into the holiday-shopping season, Best Buy says it is still concerned about the current shopping environment, which it describes as highly competitive.
Total revenue increased by 0.5% to $9.4 billion compared to $9.3 billion in Q3 2013. Earnings came in at 32 cents per share, versus 18 cents per share the year before.
US physical store sales rose by 3.2% while online sales jumped by 21.6%, which was mainly driven by more people buying computers, tablets, televisions, video games & game systems, and appliances.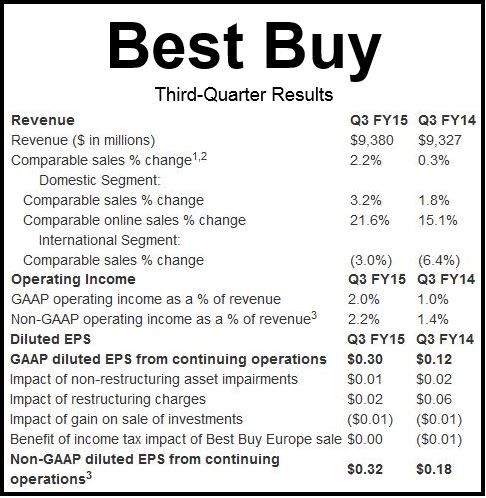 Source: Best Buy.
Hubert Joly, Best Buy president and CEO, commented:
"In the third quarter, our teams delivered positive comparable sales, improved profitability and continued progress in our Renew Blue transformation."
"As we enter the fourth quarter, we are excited about our holiday plan, which has been built around the cumulative progress we have made against our Renew Blue priorities; an operational roadmap that incorporates the specific learnings that we gained from last year; and our current views on the consumer and competitive environment."
Best Buy is giving more floor space to electronic brands like Sony Corp. and Samsung Electronics Co. In October, the company said it made a deal with GoPro to include more of its video cameras in its stores.
Mr. Joly says there is a $1 billion cost cutting program underway, which includes negotiating cheaper store leases and improving the supply chain.
Net income describes a business' income after accounting for the cost of goods sold, depreciation and expenses and taxes.