After posting a 0.1% price decline year-on-year in September, October's Eurozone inflation (year-on-year) improved slightly, registering 0.0%. While still well below the European Central Bank's (ECB's) target of 2%, it is a move in the right direction.
Unemployment in the Eurozone fell from 10.9% in August to 10.8% in September.
There is still pressure on the ECB to further ease monetary policy, despite the latest promising statistics.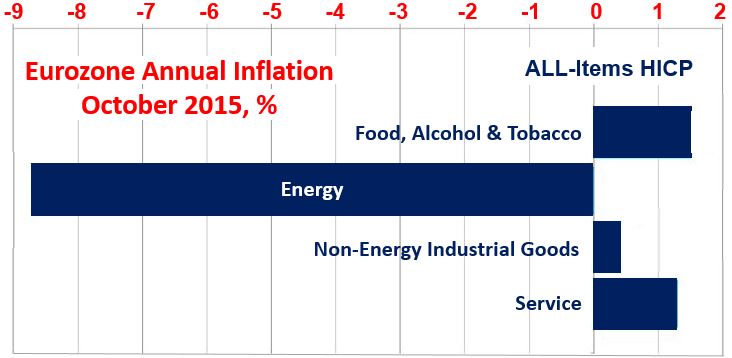 Over the past year, energy prices have plummeted. (Source: Eurostat)
In March 2015, the ECB launched a government bond buying program to inject cash into the Eurozone. The aim is to boost inflation, which has been worryingly low due to cheap energy and anemic economic growth.
---
---
Reuters quoted Howard Archer, an IHS Global Insight Economist, who said:
"The marked drop in euro zone unemployment in September together with flat inflation in October should be supportive to consumer spending, which will hopefully allow it to play a key role in sustaining the euro zone's modest cyclical upturn."
Energy prices, which fell by 8.7% year-on-year in October, made sure inflation stayed low. Unprocessed food prices rose by 3%.
Prices in October rose by 0.9% after excluding the effects of energy and unprocessed food, compared to 0.8% in September.
Core inflation, which also excludes the prices of tobacco and alcohol, rose from 0.9% in September to 1% in October.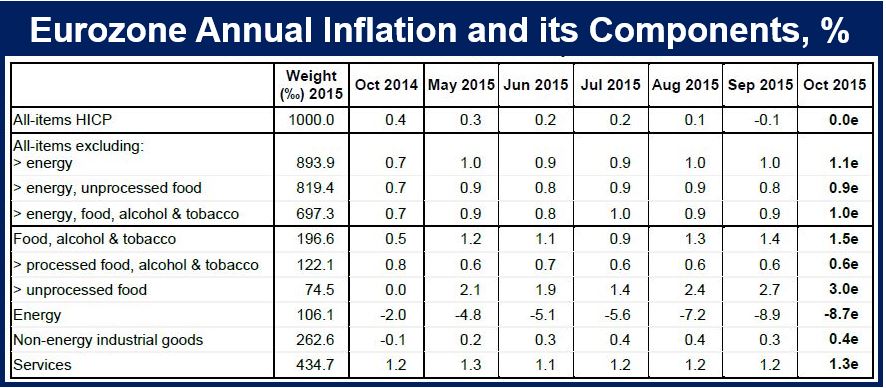 e = Estimate (Source: Eurostat)
Prices of services increased from 1.2% in September to 1.3% year-on-year in October. Services account for two-thirds of the Eurozone's economy.
With unemployment falling and wage growth rising by 1.8% year-on-year during the first six months of 2015, core inflation is likely to continue rising over the medium term, economists say.
What's the ECB's next move?
The ECB may expand its stimulus measures in December, if by then its current bond buying plan is considered not effective enough. Most European economists believe that at its December 3rd policy meeting, the central bank will marginally step up its monthly purchase of assets.
In an interview with the BBC, Jessica Hinds, European economist at Capital Economics, said:
"Although today's inflation and unemployment data for the eurozone revealed small improvements, they are still very weak by past standards, suggesting that the ECB cannot afford to delay increasing its policy support much longer."
The following countries are members of the Eurozone (countries that use the euro as their national currency): Belgium, Ireland, Germany, Spain, Estonia, Greece, France, Italy, Cyprus, Slovakia, Latvia, Lithuania, Slovenia, Luxembourg, Malta, Austria, Portugal, Slovakia, Finland and the Netherlands.